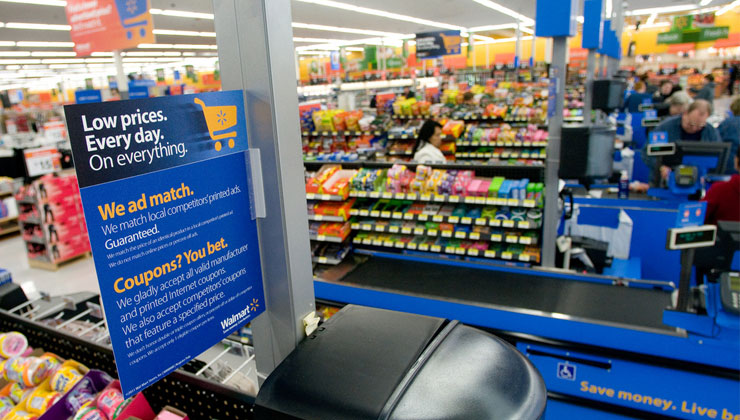 The prospect of working with Walmart can seem like an impossible goal. Walmart is the largest retailer in the United States. While it might be intimidating at first, getting on the shelf at Walmart or on Walmart.com is a huge opportunity for your business.
As the retail landscape becomes increasingly competitive, however, brands like Walmart are more selective about their supplier partners. Prepare to approach Walmart by reviewing the steps below and contact a Walmart expert if you still have questions.

Are You Qualified to Be a Walmart Supplier?
You don't have to be a multi-million dollar business to sell in Walmart Stores. Walmart does business with the Coca-Colas and Proctor & Gambles of the world as well as smaller suppliers that only want to be in a few hundred stores. Varying sizes of suppliers must meet specific requirements, all explained on Walmart's website as you apply.
However, as a small or medium-size supplier, there are things to consider before beginning the application process. For example, only approach Walmart if you already have a proven track record and solid customer base. Your Walmart buyer doesn't want you relying on the company for 100% of your business. Walmart sales should only contribute to roughly 30% of your company's revenue.
With that in mind, make sure your items are established outside of Walmart. Whether in other brick-and-mortar stores or a solid sales history online, this will speak volumes as Walmart considers you to be a supplier.
Another avenue is to test your product with Walmart's online shoppers. Before trying to sell in the stores, Walmart Marketplace is a good launching ground for smaller suppliers.
How to Get Your Product in Walmart
Step 1: Decide What Type of Supplier You Want to Be
If you're asking yourself, "How do I get my product into Walmart?" the first step is to decide what type of vendor you want to be. There are six different ways to do business with Walmart:
National Product Supplier (Store and Online): As a National Product Supplier to Walmart, you would sell your products at brick-and-mortar stores all over the country, as well as online. So if your product is suited to a broad audience, this might be a good choice. This is also a great way to start working with Walmart as a private label supplier.
Local Product Supplier: Local Product Suppliers provide products that are locally relevant to a target area and fit with Walmart's "Store of the Community" initiative.
Direct Imports: International companies (outside the U.S.) can sell a product to Walmart U.S. as a Direct Imports Supplier.
Walmart.com Supplier: All items sold in a brick-and-mortar store will also be listed online. Walmart.com Suppliers sell products exclusively online. For more information, also check out our blog Walmart Tax Code: How Sales Tax Works on Walmart.com.
Walmart Marketplace Seller: Third-party sellers can take advantage of Walmart's growing e-commerce audience by listing their products on the Walmart Marketplace. If this is a path that suits your business, learn some great tips in our blog How Walmart Marketplace Reviews Work (+ How to Get More).
Service and Non-Resale Supplier: Service and Non-Resale Suppliers provide services to Walmart like construction, mechanical, professional, realty procurement, energy, and maintenance.
Today, we're going to focus on the first 5, which involve selling products to Walmart customers, either online or in a physical store.
Step 2: Apply to Be a Walmart Supplier Online
After deciding which type of supplier you are, click the registration link in the corresponding supplier description. You will be directed to the Global Supplier Management (GSM) platform to complete your registration.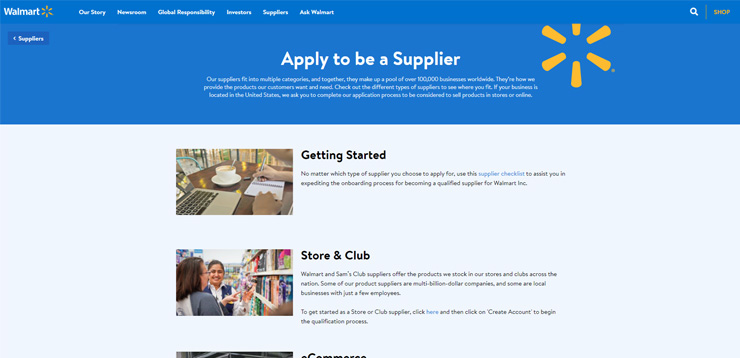 You will need your DUNS Number to start the application process. If you don't already have one, you can get a DUNS Number for free. Just call 866-815-2749 for help.
To complete your registration, you will also need to review and agree to the Retail Link® agreement. This is a legal, binding contract for your company, so read it thoroughly.
After registration, you will receive an email to activate your account. Just click the "Activate Email" button to continue.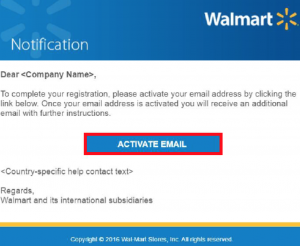 Next, you will receive an email with a User ID and Password to log in to the Global Supplier Management (GSM) system in Retail Link®.
Important Note: If you do not log in within 90 days, your User ID and Password will expire. If that happens, you will have to start the Registration process over, so be sure to log in right away!
Step 3: Complete the Certification Process
After you complete Registration, the next step is Certification. The goal of this process is to do two things:
Demonstrate that you meet the minimum requirements to be a vendor
Share more information about your company and products
The information you provide here will be made available to Walmart buyers, who can review your Supplier Profile and reach out to you if they are interested in a partnership.
Because this information goes into a pool that buyers can browse for products — rather than to a specific person — it's important to provide detailed, compelling copy that really explains the value of your product.
To start the certification process, sign into Retail Link® with the email address and credentials you used during registration.
Minimum Requirements
Federal Tax ID Number: (TIN) for US Suppliers or current W08 Tax Certificate for non-U.S. suppliers.
Dun & Bradstreet Registration: Suppliers must have a rating of 6 or below and must be updated annually through Retail Link.
Responsible Sourcing Requirements and Expectations: This can vary based on your category and product. Rules apply to all suppliers, factories, subcontractors, and packaging facilities.
Certificate of Insurance: The amount and type of insurance depend on which Walmart department your product falls under.
GTIN/UPC: GTIN is a family of barcodes regulated by GS1 (a nonprofit organization that governs the use of barcodes). Your UPC must be distributed from GS1 to do business with Walmart.
GDSN: Global Data Sync Network. All suppliers are required to have a Data Sync provider to create and set up items.
After you get all the basics, contact, and financial information out of the way, it's time to talk about your business!
In the Products section, you will be asked several Yes or No questions about your product.
For example:
Do you supply any products made in the USA?
Do you provide licensed/royalty products?
Are you a broker for any of the products you would like to sell?
The next section is called "Finally, the good stuff." A lot of this information is not required, but it definitely increases your chances for consideration. We strongly recommend filling out every field. Because just like your usual customers, you have to capture the buyer's attention and explain the value of your product.
Tips for Certification
Use a descriptive product name.
For the product cost, Walmart is looking for the "Best per unit cost for your product to Walmart." Be sure to do your research on AUR and competitive products.
Your product description needs to be compelling and written with the customer in mind. What is the value of your product to consumers?
Step 4: Accept the Terms of the Supplier Agreement
After Registration and Certification are both complete, you will enter a queue where Walmart buyers can see and shop for your products. The timing varies, but if a buyer in your category likes what they see, they will invite you to start the Acceptance process in GSM via email. This is when you will typically discuss terms.
Remember: patience, patience, PATIENCE when dealing with Walmart! You may not hear anything from the merchants for at least four weeks.
After the waiting period (and if you get the invitation!), the last step to becoming a Walmart vendor is to accept the terms of the Supplier Agreement in GSM. It's wise to discuss the terms of the agreement with your buyer so you have a clear understanding of Walmart's expectations on payment terms, shipping terms, condition of sale, product chemical information, return policy, etc.
This is where the fun begins! Once you get a "yes" from your buyer, it's time to hit the ground running.
These 8th & Walton classes will walk you through all the things you need to do between acceptance and getting your items set up with Walmart.
Tips for Selling to Walmart
1. Align With Walmart's Key Initiatives
Walmart is focused on several key initiatives right now: investing in American jobs, supporting women and minority-owned businesses, and reducing emissions. These key initiatives are important to Walmart because their customers care.
If your business aligns with any of these initiatives, you may have a leg up getting your product into Walmart. Your company's story is part of your total value offer to Walmart.
It also helps to understand Walmart's expectations for suppliers to deliver on these initiatives through their supply chain guidelines (On Time In Full, shipping options, etc.).
2. Establish Your Business on Other Platforms
For businesses that don't naturally align with one of those initiatives, it's a good idea to "prove" your product in other retailers and e-commerce platforms before approaching Walmart.
While there are no minimum required sales figures or years of experience, Walmart doesn't want to be 100% of your business. They want to know that you can stand on your own.
3. Apply During Walmart's Open Call
Once a year, Walmart hosts the Made in USA Open Call, where current and potential vendors who manufacture in the U.S. have a chance to meet one on one with a Walmart Buyer. This is a huge opportunity to tell your story to a decision-maker — cutting straight through the standard application process.
Understand Walmart Merchant Roles
Either directly or indirectly, there are 8 key roles within Walmart that suppliers will work with. With so many roles and responsibilities, working with Walmart can get confusing fast, so it's important to understand who does what.
Buyer: central to every function. While the other merchant roles do not report to the Buyer, they do look to this person for leadership, strategy, and critical decision-making.
Planner: works with the Buyer to create and manage budgets. They are also responsible for hitting category financial targets.
Replenishment Manager: works with the Buyer to implement merchandise strategy from a supply chain and inventory perspective.
Modular Development: responsible for mapping out the placement of products on the shelf.
Pricing: determines price points and margins on assortment to position Walmart as the EDLP leader, as well as delivering category financial targets.
Marketing: promotes merchandise through all available channels.
Sourcing & Product Development: partners with the core team to leverage supplier relationships and assortment.
Merchandise Execution: acts as a liaison between Merchandising and Operations to optimize planning, communication, and implementation of programs.
New Supplier FAQ
What is Retail Link®?

Retail Link is the system that Walmart and its supplier partners use to access and share important information like sales, inventory, etc.
Who should be my Retail Link® administrator?
This person can manage the supplier's company profile with Walmart and is responsible for accepting terms and conditions. So this should be someone on your team who you trust.
What browser should I use to log in to GSM?
We recommend Google Chrome. You can also use Apple Safari, Internet Explorer (version 11), and Microsoft Edge.
What is the difference between "New" and "Existing" suppliers?
Existing suppliers already have a 6-digit supplier number with Walmart Stores, Walmart.com, or Sam's Club. New suppliers do not.
Ready to Begin Your Walmart Journey?
After establishing what kind of supplier you are, what you can bring to the Walmart buying team, and doing a little paperwork, you're well on your way. Being a Walmart supplier isn't right for every business, but if your items are a good match with Walmart's customer base, partnering with them will be extremely rewarding.
From that first moment of filling out the online application to your first Walmart sale, this will be an exciting time for your company! As a new supplier, don't feel overwhelmed by the application and acceptance process — help getting started is just a click away!