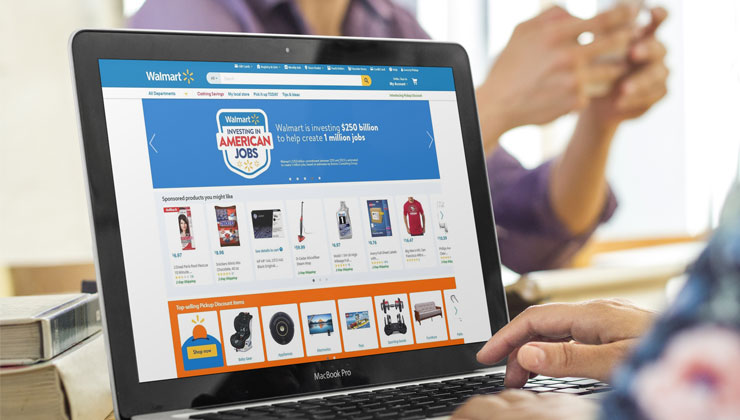 You've got a great product, and sales are going well. You and your team realize it's time to expand your distribution and grow your business. One way of doing this is getting your products in front of Walmart's shoppers, either online at Walmart.com or in Walmart stores.
Getting your products on Walmart's shelves is an excellent business move. It also takes time and a lot of work. You'll need to approach the company with your product, persuade your buyer to enter a supplier agreement and begin getting your products into stores. One way to speed the process and begin earning money on product sales is by applying to be a Walmart Marketplace seller.
What Is Walmart Marketplace?
Walmart Marketplace is an online marketplace where third-party sellers can sell their products alongside Walmart's own products. Have you ever bought an item from eBay or a third-party seller on Amazon? Walmart Marketplace operates the same way.
Since 2009, Walmart Marketplace has helped many suppliers get their products in front of Walmart customers. As a marketplace seller, you can expand your reach and use world-class online selling tools. You'll also become familiar with Walmart's operations, making this a great first step in getting your products into Walmart stores.
Why Sell on Walmart Marketplace?
The data doesn't lie: Consumers love online marketplaces. A survey by Mirakl showed that 70% of shoppers favor these third-party marketplaces for their merchandise selection, pricing, and delivery options. Busy consumers want one-stop-shop options, and Walmart Marketplace offers that.
Selling on Walmart Marketplace also offers advantages and opportunities to your business:
Walmart.com is an established online platform with hundreds of millions of visitors annually. Instead of having to attract consumers to your own website, your product will be on a site that is already generating huge traffic numbers.
You'll benefit from world-class systems and security. You won't have to drag yourself out of bed in the middle of the night due to a hacker taking over your site. You'll have less to worry about when it comes to fraudulent transactions. Your customers won't have to deal with miscoded links or error messages.
Marketplace sellers benefit from top-notch analytics. You can use this data to improve your business practices.
You'll have a relationship with Walmart. This can lead to in-store sales of your products.
If you've been hoping to get Walmart to sell your products, Marketplace offers a simple, speedy option that can eventually blossom into your becoming a full-fledged supplier.
Qualifications Needed to Sell on Walmart
Even though Walmart is eager to work with third-party sellers via its online marketplace, the company still wants to protect its brand and reputation. This means that there are a few basic requirements for any business that wants to join the program:
You must have a legitimate business in the United States with its own name, address, tax ID, and licensing. In addition, your information must match what you've provided to the IRS in the past. Matching information can lead to quicker approval by Walmart.
You'll need to show that your business has already had success selling online.  This can be through another marketplace or e-commerce platform.
Any products you sell must not conflict with Walmart's Prohibited Products Policy, and each must have GTIN/UPC GS1 Company Prefix Numbers.
Order fulfillment must be through Walmart Fulfillment Services (WFS) or a B2C U.S. warehouse that can process returns.
Walmart is a stickler on these points, so if your operations aren't quite yet at this level, step back, invest in the necessary documentation and infrastructure, and then apply to become a Marketplace seller.
How to Sell on Walmart Marketplace
Selling on Walmart Marketplace begins with applying to become a vendor. After reviewing the basic qualifications for becoming a seller, set some time aside to complete the online application.
Step 1: Gather Your Documentation
You can save time and frustration by gathering documentation before starting the application. You'll need the following:
Your business tax ID.
A W9 or W8 and EIN Verification Letter from the Department of Treasury.
Step 2: Complete the Application
To become a Walmart Marketplace seller, visit marketplace.walmart.com, click "Join Marketplace", and fill in all the fields. Use an email that ends in your domain name rather than a generic email domain. This increases your chance of approval.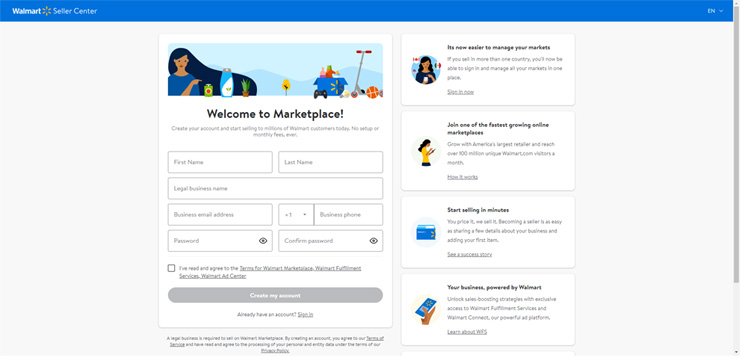 Double-check each section for errors. Incorrect information can slow down the approval process. Check that you have read and agreed to the terms of service. When you're ready, click "Create my account."
Note: international sellers will first be prompted to verify that they have a US Tax ID before continuing to the above page (Walmart checks the location of your IP Address).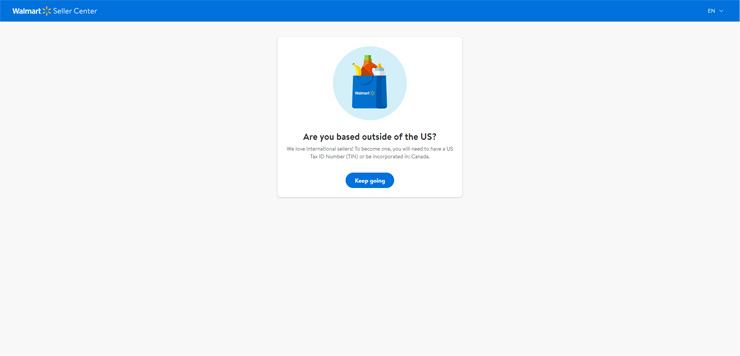 Step 3: Verify Your Email
After submitting your application, Walmart wants to verify that the email you provided is accurate. You'll be directed to a page asking to check your email for a verification link. Check your inbox for an email with the Subject "Account Verification." Open it and click "Verify my account." This link expires in 24 hours, so this should be done immediately.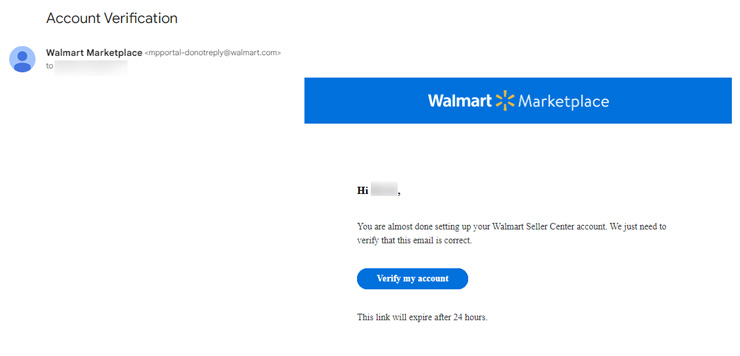 Once verified, you will be directed to Walmart to confirm your email verification. Click "Go to my account."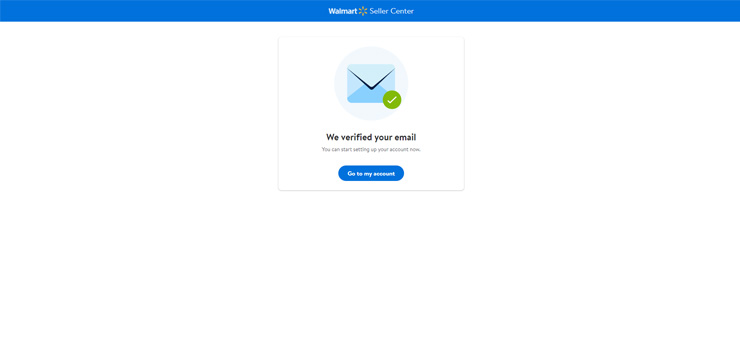 If you can't find the email, you can request Walmart to send a second verification email. If you still can't find it, check your spam folder. Otherwise, you may have incorrectly entered your email on the initial application and will need to start over.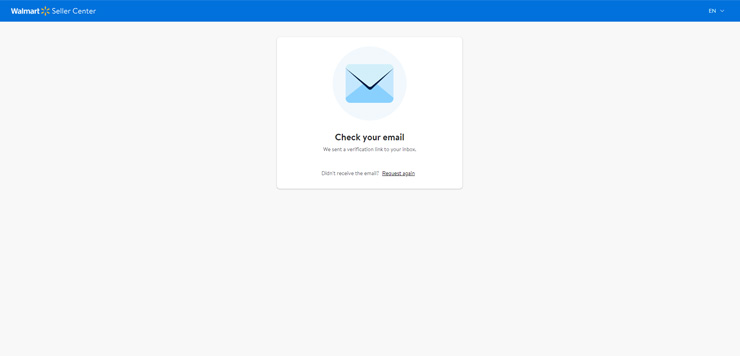 Step 4: Log Into Seller Center
Walmart will now prompt you to log into Seller Center with the email and password you initially entered. Enter your Email and Password and click "Log In."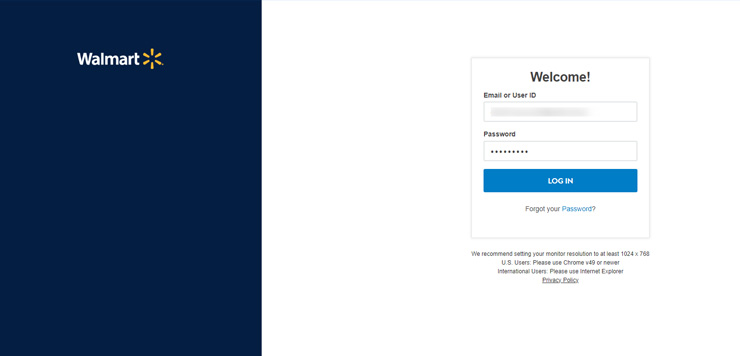 By default, Walmart has enabled 2-step verification for added security (you can turn it off in Settings). You will need to check your email for the verification code. Enter your verification code, and click "Continue."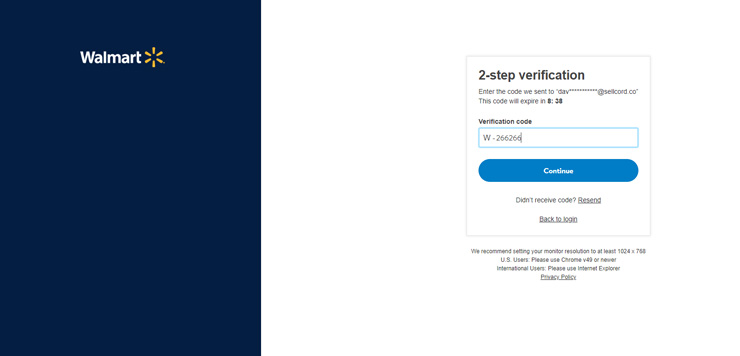 Once logged in, you will see a congratulatory pop-up.
Step 5: Set Up Your Account
There are three steps that need to be completed before beginning selling: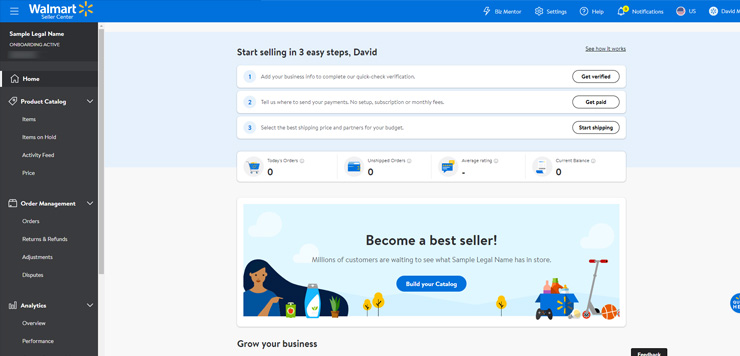 1. Business Verification
The first step is Business Verification. This is where you will request from Walmart your company's eligibility to be a seller on Walmart. Click "Get verified" and fill in all the fields.
This is broken down into 2 sections: your Business Details (such as your address and GMV) and your Seller Profile (where you set your Display Name and provide your customer service information).
Check the box at the bottom to verify that the information is correct and click "Submit for review." If you don't have all the information ready up front, you can enter what you have and come back later by clicking "Save and close."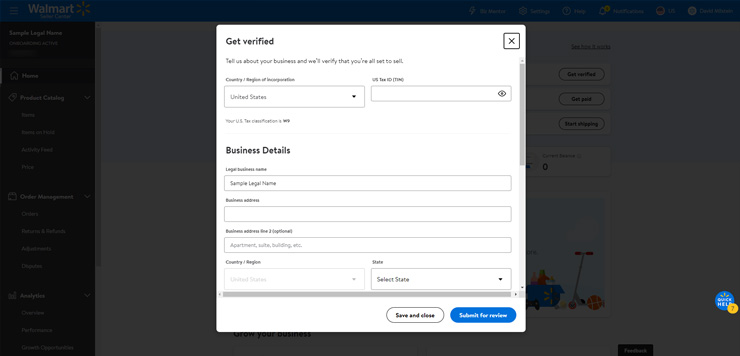 The Business Verification process requires Walmart to manually take a look into the business, which can take a few days to complete. Once approved, the first step will say "Your business is verified!" and will offer a "Review" option to see the submitted information.

2. Payment
The second step is setting up your payment information so Walmart can pay you once you start making sales. This can only be completed once the Business Verification step has been approved.
Walmart offers three companies for payments: Payoneer, Hyperwallet, and PingPong. Click "Get paid," choose a payment method, and click "Set up." You will be directed to create an account with the selected payment provider.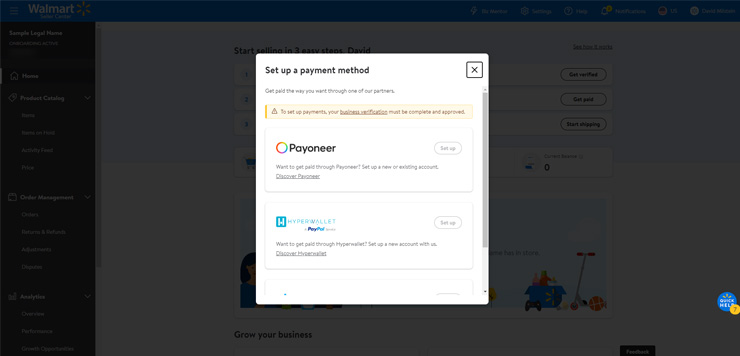 3. Shipping
The third step is to set up your shipping and returns. Click "Start shipping" and fill out the three sections:
Shipping Templates are for seller fulfillment. You can select the default setup or click Advanced setup for more options (you can set different rates and shipping times by region).
Return Labels is next. Walmart offers a shipping solution for returns. You need to accept this program.
A Return Center where returns are shipped needs to be set up. It can be the same as your shipping address.
Once all fields are filled out, click Submit.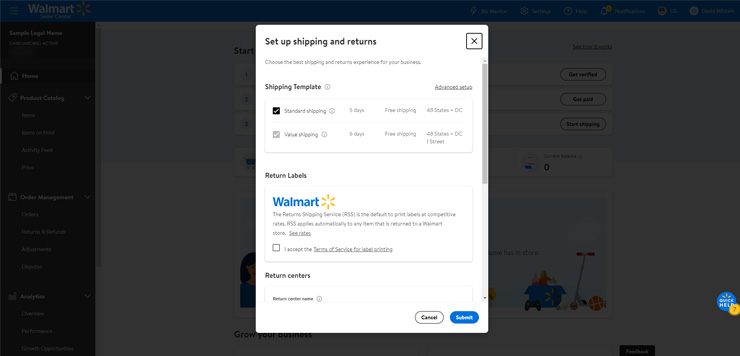 Most of the registration process is straightforward. Just be sure to double-check your entries to make sure that they are accurate.
Step 6: Complete Item Setup
Item Setup for Walmart Marketplace is the most involved part of creating your account — which you might expect since this is where you input all your content (pictures, long and short descriptions, attributes, etc.).
Item Setup can be completed before Business Verification. However, the items will be in a draft state until the account is approved to sell and the above steps are completed. Additionally, item setup is limited to catalog match. Bulk uploads are disabled before the 3-step setup is completed.
To begin, go to the "Items" page under "Product Catalog" and click "Add items."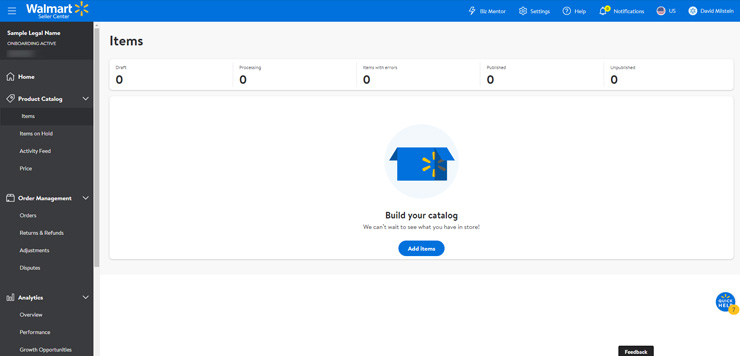 Walmart offers a few solutions for item setup:
Bulk Upload Files
If you are well versed with spreadsheets, Walmart has a great item setup process by filling out a blank template. Under the "Upload a spreadsheet" section, click "Walmart template." Walmart offers two upload options:
Full Item Template (Advanced Users) – Download a blank file by category, where up to seven categories can be uploaded at the same time. Click "Create a full-setup template." This will direct you back into Seller Center where you will need to select if you are uploading Seller Fulfilled or Walmart Fulfilled items as the fulfillment type affects the columns on the sheet.
Select the fulfillment type. Under "Full Setup," select the categories you want to upload. There are many attributes varying by category, not all are required, but the more information you provide, the better your listing will be.
Once the file is completed, upload it under the upload section. Some errors will trigger an immediate download file, while others may only display in the file after ingested by Walmart.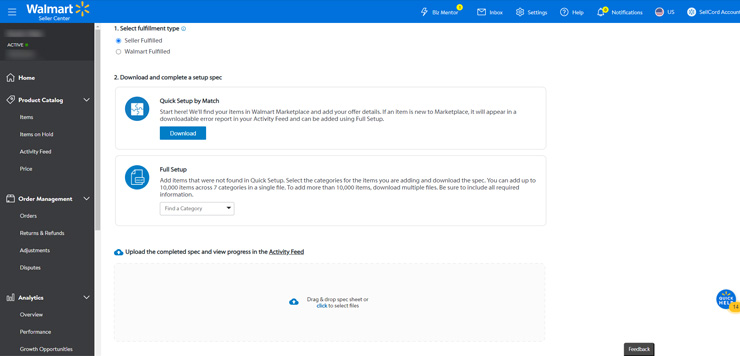 Item Match in Bulk – To upload a catalog match in bulk if you are selling items that already exist on Walmart.com. Click "Set up items by match" and you will receive a template with a few basic fields required for the upload as most of the information is already on Walmart.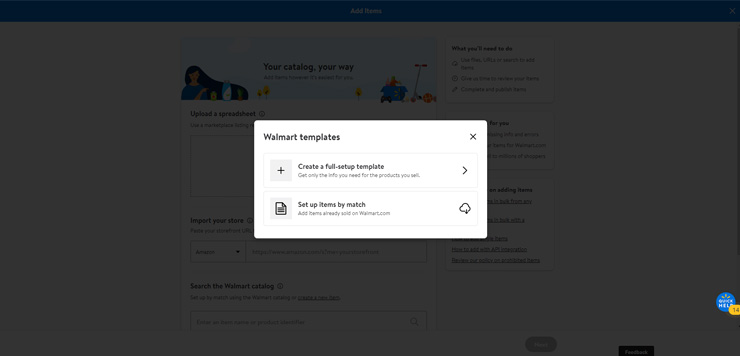 Storefront Import
You can import your catalog from an existing storefront from the following marketplaces: Amazon, eBay, Etsy, Instacart, Shopify, Target, and Wayfair. Under the "Import your store" section, select which store you are taking the data from and enter the link of your store.
Walmart will pull as much data as they can, yet there will be information that Walmart needs you to fill in (such as the SKU and sales price).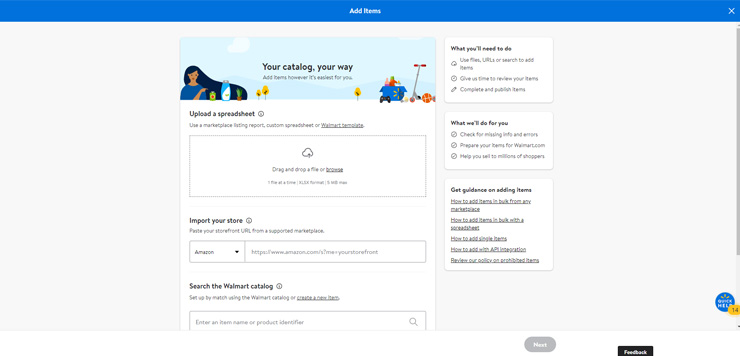 Catalog Match
If you want to set up an item that already exists on Walmart.com, you can set it up one at a time. Under the "Search the Walmart catalog" section, enter the Product ID which can be either the GTIN, UPC, or Walmart ID (found in Walmart URL) of the item. You will see the item displayed with an option to view it on-site to confirm it is the correct item. Click "Add item" to proceed with the setup. Walmart will prompt you for the information it needs.
When importing your storefront, Walmart offers the support of its onboarding team to assist through the onboarding process.
Remember, the information provided here can be changed, but it is important to set it up accurately to begin, especially the SKU and Product ID fields as those are the most difficult to update.
Regardless of which item setup you choose, the status can be found on the "Activity Feed" page under "Product Catalog." You can see if your file is processing, completed, or in error. You can download an Error Report to see the issues with your initial feed. Sometimes Walmart has an internal error and just requires the item to be ingested again.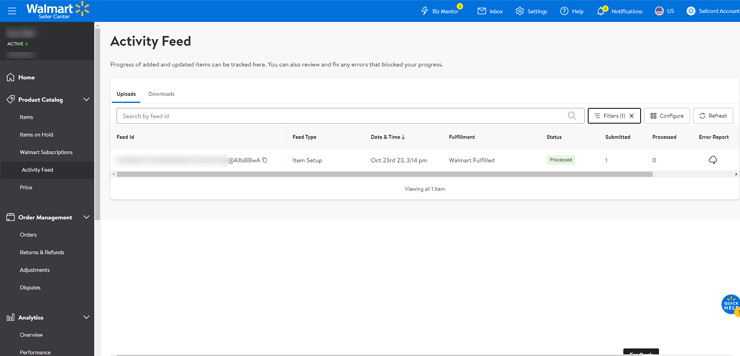 Step 7: Add Inventory
Once your items have been set up, you now need to add inventory so that your listing shows live on Walmart.com. You can add inventory through WFS under the WFS section, or seller-fulfilled inventory can be added manually per item, or in bulk via a template.
Go to the "Items" page under "Product Catalog" and search for the item you want to add inventory to. Click the current inventory number and a pop-up will open to manually enter the On Hand inventory. Enter the correct number and click "Update."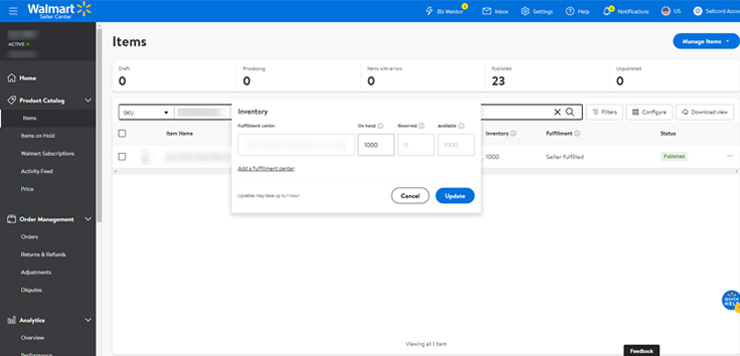 Step 8: Start Selling
Once the 3-step setup has been completed, your business has been verified, your item(s) have been set up and have inventory, you are ready to start making sales.
To see that your item is properly visible on Walmart.com, go to the "Items" page under "Product Catalog," search for the item, click on the title, and on the pop-up select "View on Walmart.com." This will open a new tab with the item visible on Walmart.com.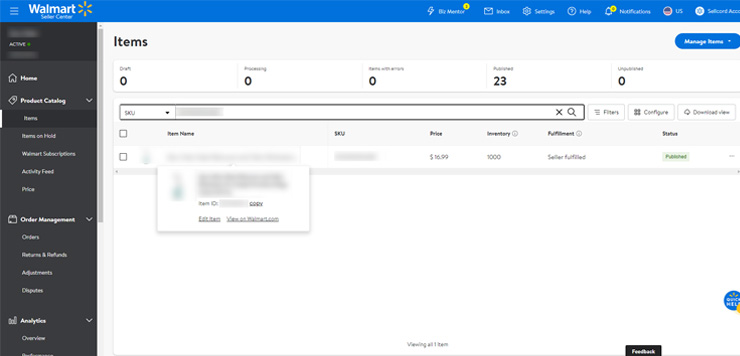 Tools to Help You Grow on Walmart Marketplace
Walmart is a big company, and its online marketplace is a big platform! Fortunately, you don't have to go it alone as a new seller. There are plenty of tools available to support your business. Here are some of the most important:
Walmart Fulfillment Services (WFS): While you can work with a B2C warehouse of your choice, Walmart has a ready-made, end-to-end option for you and your business.
Walmart Connect: Joining Walmart Marketplace is a fantastic way to get your products in front of consumers. You can enhance this exposure by purchasing sponsored advertising through Walmart Connect. Your promoted product listings and brands get increased visibility, which means increased sales!
Walmart Brand Portal: Concerned about protecting your intellectual property throughout Walmart Marketplace? The Walmart Brand Portal has your back. This program offers streamlined IP claim management that allows you to spend more time on your business and less time tracking violations.
Walmart Dashboards: The back end of Walmart Marketplace allows suppliers to manage their products and monitor their sales. The listing quality dashboard uses an algorithm that assesses your listing. This allows you to make the changes necessary to maximize engagement and sales. The unpublished items dashboard is another critical tool: If there is something wrong with one of your listings, Walmart will unpublish it from the marketplace. You can use the information on the dashboard to make changes needed to get it into compliance with Walmart's standards.
Expedited Shipping Options: Shipping matters to e-commerce shoppers. Some are more concerned about shipping speed while others are focused on keeping costs down. Being able to offer choices, such as expedited shipping, can increase your chances of making a sale. Walmart provides expedited shipping options for suppliers that use WFS or another B2C solution.
Take time to explore Walmart Marketplace tools. They can save you time and money while helping to ensure your success on the platform.
Best Practices When Selling on Walmart.com
Getting approved and set up was the easy part. The real work begins by connecting with your new, expanded customer base.
Keep in mind:
Win the Buy Box – Whether you're a Walmart Marketplace Seller or a Walmart.com Supplier, this is the most important thing. The Buy Box heavily influences shopper behavior, so to get the sale, it's critical that you have top representation.
Know Your Audience – Online shoppers have different needs than in-store shoppers. More Millennials visit Walmart.com than ever set foot in a store. Plus, the online shopper comes from a higher income bracket than the brick-and-mortar consumer. Listing items hard to find in stores gives you a sell-through advantage.
Price, Price, Price – Being on Walmart's website brings your business many benefits. But be aware: your items are listed alongside items from the world's largest retailer! Walmart serves its customers with low prices. Price to win, but know your competition as well as your customer.
Rank Higher in Walmart.com Searches – Once your products are on Walmart.com, the next step is getting customers to find them! For tips on ranking higher in searches, be sure to read our detailed guide to Walmart SEO.
Build Better Item Pages – Building your item page correctly helps in search rankings and helps sell the customer once they've reached your item. If you want to know more about using keywords, better imagery, and video content, request a free consultation with our e-commerce experts.
Marketplace Seller vs. Walmart Supplier
If you're just now turning your eye to Walmart as a potential partner, you might be asking whether it's better to be a Walmart Marketplace seller or a Walmart.com supplier. There are pros and cons to both.
First of all, it's faster and easier to become an approved seller on the Walmart Marketplace than it is to become a supplier to Walmart. You don't need your Dun & Bradstreet credit information or insurance to request a Walmart seller account. If you have your business tax ID or license, along with a business address, you can move forward with a seller application.
Because a supplier with Walmart has a fuller relationship, they are held to a higher standard prior to approval and throughout their partnership. Technically, the only association between a Marketplace seller and Walmart is that the seller's products can be purchased on Walmart.com. As a Walmart supplier, however, you could potentially expand your product offerings in-store, and you have access to reporting functionality.
Walmart Marketplace FAQ
How Much Does It Cost to Sell on Walmart Marketplace?
The good news is Walmart Marketplace seller fees have an advantage over other sites like Amazon. There is no annual fee. Also, there is no product listing fee. Instead, Walmart simply charges suppliers a referral fee for each item sold.
What Are Walmart's Referral Fees for Marketplace Sellers?
Your Walmart Marketplace "referral fee" ranges from 6% – 20% of the product's gross sales proceeds. The exact percentage depends on your product category. View current Walmart marketplace fees by product category.
Is It Hard to Sell on Walmart Marketplace?
Walmart Marketplace is one of the most effective ways for businesses to get their products in front of consumers. Still, you have to do your part to ensure success: Sell quality products, keep your prices low, create excellent listings, offer shipping options, and answer customer inquiries promptly.
You'll also need to watch your analytics and adjust your sales and product strategy accordingly. Walmart provides excellent tools for managing your online sales: take advantage of them!
How Do I Win the Walmart Buy Box?
When multiple sellers offer the same item, the listings will be consolidated on the same Item Page. Customers are naturally drawn to the first option, so winning the Buy Box is extremely important on Walmart.com.
The total cost of the product offer (price plus shipping) is the biggest factor in winning the Buy Box. To win the Buy Box on Walmart Marketplace, offer competitive pricing, free or low-cost shipping, and stay in stock.
You can (and should!) stay on top of your product placement by reviewing the Buy Box Report in the Seller Center.
Can I Sell on Walmart as an Individual?
Unlike eBay or Etsy, Walmart Marketplace is designed for businesses, not individuals, to sell products. You must have a business Tax ID number (Social Security numbers are not accepted on program applications) and a business address.
In addition, your products must be shipped through Walmart Fulfillment Services or a B2C warehouse that is capable of accepting returns.
What Kind of Products Can I Sell on Walmart?
Most consumer goods categories can be sold on Walmart Marketplace, including clothing, housewares, personal care, tools, and sports equipment.
What Can You Not Sell on Walmart Marketplace?
As a seller, it is up to you to know what products are prohibited or restricted on Walmart Marketplace. Fortunately, Walmart maintains a Prohibited Products Policy for Marketplace Sellers that you can refer to as you manage your catalog.
There are two main types of restrictions on marketplace product listings to be aware of: territorial and product category.
Territorial Restrictions: Products from some geographic regions, including Iran, Cuba, North Korea, and others, cannot be sold on the marketplace. These locations can change depending on geopolitical factors, such as economic sanctions.
Product Category: Some product categories are prohibited from being sold on the marketplace, while others are restricted. For example, fresh, frozen, and non-shelf-stable foods are prohibited, while some shelf-stable foods, such as jerky, might be approved.  Other restrictions include items that might be deemed offensive, drug paraphernalia, and products that violate intellectual property rights.
You might be required to obtain pre-approval from Walmart when selling in some categories. These include luxury goods, fragrances, cell phones, and Halloween items. If you do plan to sell these items on the marketplace, allow extra time for approvals when choosing products for listing.
How Do Walmart Marketplace Reviews Work?
There are two ways customers provide feedback on Walmart.com: Item ratings and reviews and seller ratings and reviews. The item ratings and reviews will appear on the Item Page (which can be shared by multiple sellers). Seller ratings and reviews are publicly visible on your Partner Profile Page, and they also impact your Seller Scorecard.
How Do Walmart Sellers Get Paid?
You will receive payment via direct deposit every two weeks. You must choose one of two payment processors, Payoneer or Hyperwallet, when you register your account with Walmart marketplace.
Walmart Marketplace Contact Info and Helpful Links
The Bottom Line
Many small businesses are eager to work with Walmart but aren't sure where to start or may initially feel intimidated.
Walmart Marketplace is an ideal alternative for small suppliers that want to test the waters before making a full commitment to Walmart, as well as those already selling online that want to expand their reach. Not only can you get your items in front of millions of Walmart shoppers, but it's a great launchpad to get items on the store shelves.
Selling through the marketplace helps you to understand Walmart's standards and culture while developing a relationship with the company and selling your products. Over time, you can put your business in a good position to begin a standard supplier relationship with Walmart.
If you are still wondering whether marketplace selling is the right option for you or want to get off to a great start, know that 8th and Walton can help! We offer tools and training that can get your supplier business up and running while maximizing your sales. To learn more about selling on Walmart Marketplace, simply submit the form below: