Are you trying to get your products into Walmart Stores but don't know how to connect with a buyer? Or do you want to get your items in front of Walmart's online shoppers? Applying to be a Walmart Marketplace seller is an ideal first step!
Before beginning the application process (and to better familiarize yourself with what will be expected), get prepared by reviewing the information below.
What Is Walmart Marketplace?
The Walmart Marketplace is a platform that allows third-party sellers to list their items on Walmart.com, just like you would on Amazon or eBay. Selling to Walmart's online marketplace is an easy way to get your products in front of a massive audience. Marketplace items appear in search results on Walmart.com alongside other items.
How to Sell on Walmart Marketplace
Step 1: Apply to Be a Marketplace Seller
To become a Walmart Marketplace seller, visit marketplace.walmart.com, click "Request to Sell", and fill in all the required fields. It should take 10 minutes to complete if you have all the information readily available.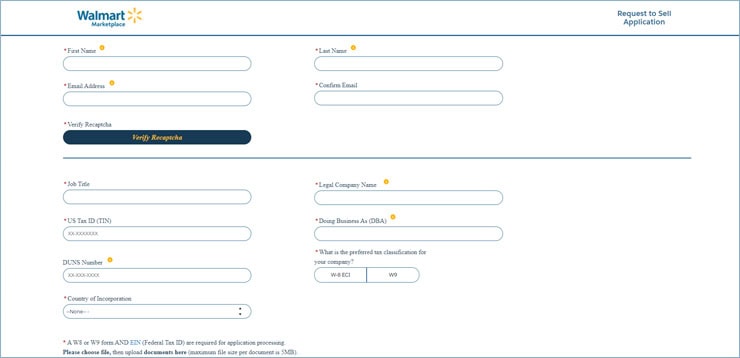 Click "Save" at the bottom as you complete each section. Be sure to double-check each section for errors. Incorrect information can slow down the approval process. When you're ready, click "Apply Now." You'll receive an email when you are approved for a Walmart seller account.
Step 2: Complete Your Registration
Follow the unique link in your approval email (subject line: "Your Account has been created in Walmart Marketplace") to create your Partner Profile. The Registration Wizard will walk you through five main sections: Account Creation, Partner Registration, Taxes (W-9),  and Shipping Info.
HINT: you will need a digital copy of your latest W-9 form (or download a blank W-9 during Registration).
Most of the registration process is filling in standard information. In the last section, "Shipping Info", you will need to configure shipping rates, as well as the days and times you will process orders.
Step 3: Complete Partner Profile
Now that you have created your Partner Profile, you will have access to the Seller Center. Here, you'll find a "Launch Checklist" that outlines the next several requirements before you can launch your account.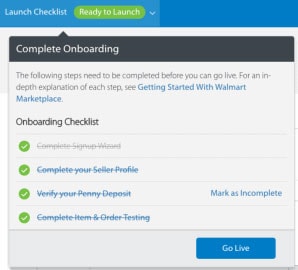 The first item on your list is to complete your Partner Profile. Your Partner Profile is a public page where customers will be able to learn more about you (including your company name, description, logo, company policies, tax information, and more).
As you complete your Partner Profile, the "profile readiness for launch" progress bar will reach 100%, and the step will be automatically crossed off in the Launch Checklist.
Step 4: Complete Item Setup
Item Setup for Walmart Marketplace is the most involved part of creating your account — which you might expect since this is where you input all your content (pictures, video, long and short descriptions, attributes, etc).
After filling out all required fields, "Validate Fields." Correct any highlighted fields, and then upload your file to the Seller Center.
Once completed, the items in your Seller Center will be moved to Active status.
Step 5: Test Items and Orders
In Seller Center, select "Preview Item" to verify content and pricing for any products in Active status. This is what your customers will see, so make sure everything looks right.
To test orders, update your item inventory to 1.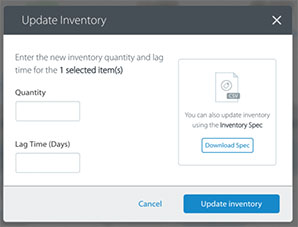 Click the Update Inventory button, then in your Seller Center, click "Publish Item" and "Purchase Item."
Step 6: Launch Your Account
The final step for selling on Walmart Marketplace is launching your account. When you "mark as done" all the items on your Walmart Launch Checklist in Seller Center, a pop-up message will ask you to confirm that you're ready to launch. When you select "confirm", this will trigger a launch request.
The Walmart Marketplace integration team will review your profile, and if everything looks good, your products will be live on Walmart.com within 24 hours.
Best Practices When Selling on Walmart.com
Getting approved and set up was the easy part. Connecting with your new, expanded customer base is where the real work begins.
Keep in mind:
Win the Buy Box — Whether you're a Walmart Marketplace Seller or a Walmart.com Supplier, this is the most important thing. The Buy Box heavily influences shopper behavior, so to get the sale, it's critical that you have top representation.
Know Your Audience — Online shoppers have different needs than a store shopper. More Millennials visit Walmart.com than ever set foot in a store. Plus, the online shopper comes from a higher income bracket than the brick-and-mortar consumer. Listing items hard to find in stores give you a sell-through advantage.
Price, Price, Price — Being on Walmart's website brings your business many benefits. But be aware: your items are listed alongside items of the world's largest retailer! Walmart serves its customers with low prices. Price to win, but know your competition as well as your customer.
Rank Higher in Walmart.com Searches — Once your products are on Walmart.com, the next step is getting customers to find them! For tips on ranking higher in searches, be sure to read our detailed guide to Walmart SEO.
Build Better Item Pages — Building your item page correctly helps in search rankings and helps sell the customer once they've reached your item. If you want to know more about using keywords, better imagery, and video content, request a free consultation with our e-commerce experts.
Marketplace Seller vs. Walmart Supplier
If you're just now turning your eye to Walmart as a potential partner, you might be asking whether it's better to be a Walmart Marketplace seller or a Walmart.com supplier. There are pros and cons to both.
First of all, it's faster and easier to become an approved seller on the Walmart Marketplace than it is to become a supplier to Walmart. To request a Walmart seller account, you don't need your Dun & Bradstreet credit information or insurance.
Because a supplier with Walmart has a fuller relationship, they are held to a higher standard prior to approval and throughout their partnership. Technically, the only association between a Marketplace seller and Walmart is that the seller's products can be purchased on Walmart.com. As a Walmart supplier, however, you could potentially expand your product offerings in-store, and you have access to reporting functionality.
Walmart Marketplace FAQ
How much does it cost to sell on Walmart Marketplace?
The good news is Walmart Marketplace seller fees have an advantage over other sites like Amazon. There is no annual fee. Also, there is no product listing fee. Instead, Walmart simply charges suppliers a referral fee for each item sold.
What are Walmart's referral fees for Marketplace sellers?
Your Walmart Marketplace "referral fee" ranges from 6% – 20% of the product's gross sales proceeds. The exact percentage depends on your product category. View current Walmart marketplace fees by product category.
How do I win the Walmart Buy Box?
When multiple sellers offer the same item, the listings will be consolidated on the same Item Page. Customers are naturally drawn to the first option, so winning the Buy Box is extremely important on Walmart.com.
The total cost of the product offer (price plus shipping) is the biggest factor in winning the Buy Box. To win the Buy Box on Walmart Marketplace, offer competitive pricing, free or low-cost shipping, and stay in stock.
You can (and should!) stay on top of your product placement by reviewing the Buy Box Report in the Seller Center.
How do Walmart Marketplace reviews work?
There are two ways customers provide feedback on Walmart.com: Item ratings and reviews and seller ratings and reviews. The item ratings and reviews will appear on the Item Page (which can be shared by multiple sellers). Seller ratings and reviews are publicly visible on your Partner Profile Page, and they also impact your Seller Scorecard.
Walmart Marketplace Contact Info and Helpful Links
Marketplace Seller Center — This is where you will log into your account after being accepted. Have your email and password handy.
Walmart Marketplace Login — If you have trouble logging in to Seller Center, we've provided some quick troubleshooting tips in this guide.
Partner Support — This is your #1 resource for help as a Walmart Marketplace Seller. To get help, you will need to create a support case (phone support is not offered at this time). To get here, log in to Seller Center. Click the question mark in the top-right corner. Hover over "Self-Help Options", and click on Partner Support.
The Bottom Line
Walmart Marketplace is an ideal selling platform for small suppliers. Not only can you get your items in front of millions of Walmart shoppers, but it's a great launchpad to get items on the store shelves.
To learn more about selling on Walmart Marketplace, simply submit the form below: