How do suppliers win the sale over their competitors? There are many options: a lower price, better packaging, bonus buys, and higher quality just to name a few. All of these answers are effective in brick-and-mortar stores, but one option is unique to online purchases that greatly increases sales: shipping options.
Customers like having the power to get their purchases shipped faster, at a discount, or free. The more options a supplier or retailer can offer, the greater the chance of winning the buy box. One option Walmart offers its online shoppers is 2-Day Shipping, a program more suppliers and Marketplace sellers are using to outsell the competition.
Walmart Shipping Options
After making a purchase at Walmart.com, the shopper has many options for delivery. Before looking at the benefits of suppliers using Walmart's 2-Day Shipping, it's beneficial to be familiar with Walmart's other options:
Next-day
Walmart's Next-Day delivery is available to select zip codes. While no membership is required, this option is free on orders of $35 or greater.
2-Day
Select items at Walmart.com qualify for 2-Day Shipping. For the customer, no membership is required. Walmart 2-Day shipping is free to customers on select items included in orders of $35 or greater.
Standard
Walmart.com customers receive free shipping on qualified items (not marked 2-day delivery). For products that do not qualify for free 2-day delivery, Walmart also offers free three to five-day shipping for orders of $35 or greater. Items purchased through Walmart Marketplace and freight items do count toward the $35, however shipping may be different based on delivery location.
Freight
Freight shipping is an option for customers making larger purchases. How freight shipping is priced is dependent on the seller's specifications.
Marketplace
Many items on Walmart.com are sold by smaller third-party suppliers using Walmart Marketplace. Customers can select from a variety of shipping methods with these sellers including: standard, value, expedited, next-day and freight shipping.
Pickup Today
While technically not "shipping," this is still an option Walmart online shoppers seek when making their purchases. Pickup Today is available for any product that can be purchased on Walmart.com and then picked up at a local Walmart store at no additional cost.
What Is Walmart 2-Day Shipping?
Walmart 2-Day Shipping gives customers free shipping within two business days on orders placed before 2 pm in the time zone where the product is being shipped (not where the customer is ordering from). Walmart 2-Day Shipping is only applicable on approved items on orders of $35 or greater.
Benefits of Walmart 2-Day Delivery
Walmart's 2-Day delivery is a convenient option for online shoppers. It allows them to have their items shipped to their home in a couple of days without paying additional fees. For Walmart suppliers, this option has the opportunity to grow visibility on the site and in sales.
1. Catch Shoppers' Attention
When a customer visits Walmart.com, they'll notice that priority is given to items that offer faster shipping choices. When reviewing the items after a search, the "2-day shipping" option is highlighted under the item. This quickly catches the eye of the shopper (see below). Walmart merchants will begin to see improvement in their search rank after being approved for the 2-day shipping program.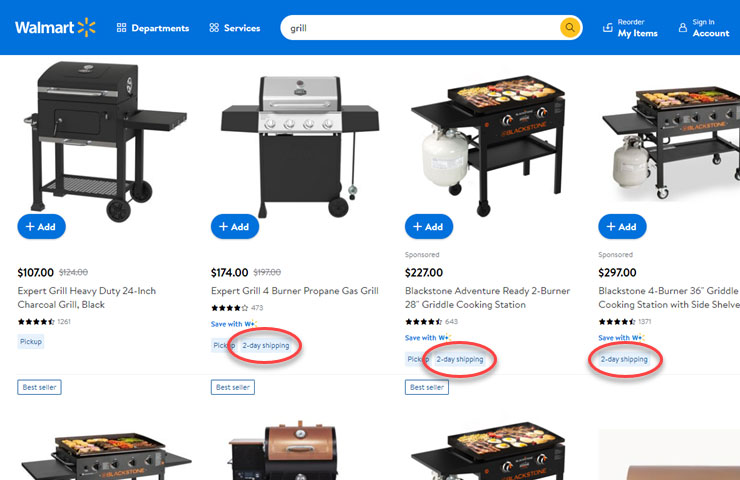 2. Improve Search Engine Rank
Walmart.com items in a customer's search results will rank higher and stand out based partly on price and what shipping options they offer.
Online shoppers give both of these criteria consideration when making a purchase, but faster and cheaper shipping options make a huge difference in adding that item to the cart.
3. Compete in Filtered Results
Because online shoppers place such a priority on shipping options, Walmart.com allows customers to filter their search results by shipping preferences.
For example, when a customer searches Walmart.com for "electric blanket," over 1,000 items come back in the search results.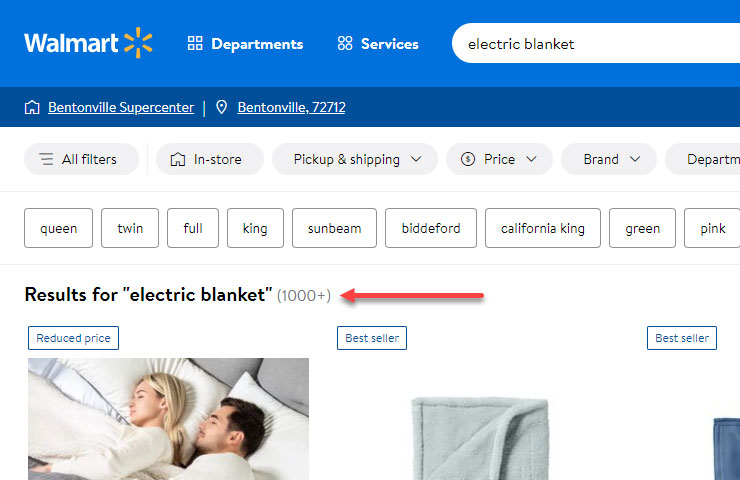 To narrow the search options, the customer can click on the Speed tab and select 2-days.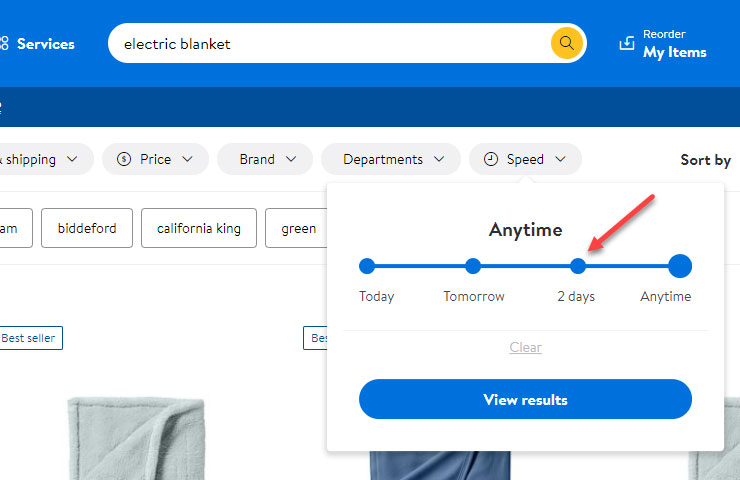 There is now a dramatic change in the search results! Simply by qualifying for 2-day delivery, the electric blanket supplier is now competing in a group of 53 results rather than over 1,000.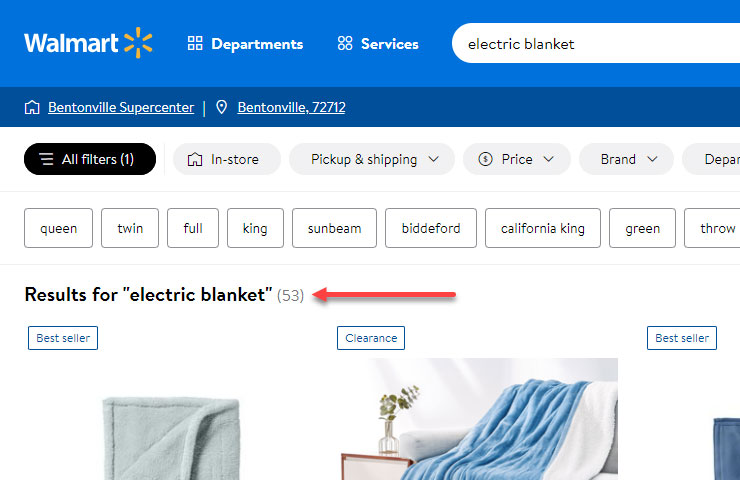 4. Winning the Buy Box
For online sales, it all comes down to winning the buy box. Walmart's 2-Day shipping option not only helps in narrowing the search against competitors, but further driving the sale. In fact, Walmart analysts have tracked a 50% lift in conversion for items that include 2-day delivery.
Great-moving items are picked up by Walmart's algorithm and given an additional higher ranking boost in search results. All of this contributes to getting the item in the buy box and improving overall online performance.
5. Driving More Traffic and Sales
Online shoppers give high preference to items that offer free shipping. UPS concludes that more than 50% of United States online shoppers are more drawn to free shipping or discount shipping options when checking out.
With little or no shipping costs, suppliers have a better chance of their items not being left in the online cart unpurchased.
As shoppers navigate their searches down to products that can be shipped quickly, item page views can convert to transactions at a better rate.
How to Get Approved for 2-Day Delivery
To get items approved for Walmart's free 2-Day Delivery, suppliers must submit a request through their Seller Center profile. Walmart will review the request, ensure the supplier qualifies, and receive an approval or rejection within 48 hours.
What is Walmart looking for in order to approve a supplier for the 2-Day Delivery status? Suppliers must meet the following conditions to be considered for approval:
Have been selling items on Walmart.com for more than 90 days.
Have fulfilled at least 100 orders in the previous 30 days prior to submitting the request.
Have a return policy focused on customer satisfaction.
Once the 2-Day Delivery status for a supplier is granted, the real work begins: maintaining it! To keep the 2-Day Delivery shipping option with Walmart, suppliers need to focus on:
On-time shipping rate of more than 95%.
On-time delivery rate of more than 95%.
Cancellation rate of less than 1.5%.
Valid tracking rate of over 95%.
The strict guidelines Walmart puts on 2-Day Delivery qualification is a benefit to suppliers. It separates their items from competitors in a search and increases the chance of winning the buy box. Maintaining the status also encourages suppliers to keep improving their supply chain practices and drive down costs.
Frequently Asked Questions
Do I need to apply for 2-Day Shipping if I currently use Walmart Fulfillment Services?
No. Suppliers who use Walmart Fulfillment Services do not need to meet the qualifications stated above. Walmart 2-Day delivery is automatically available for all WFS items.
What are Walmart Smart Tags?
Walmart uses a Smart Tag technology that attaches 2-day delivery tags to each qualifying item. Suppliers using this machine learning algorithm can have 2-day tags added to (and removed from) items without doing the manual work. To request Smart Tags, suppliers just need to inquire in the Seller Center.
Does Walmart 2-day shipping include weekends?
No. Weekends and holidays are currently not included in the Walmart 2-Day Shipping option.
Do suppliers have to fulfill their own 2-Day Shipping orders?
If a supplier is not currently using Walmart Fulfillment Services, they may fulfill their own orders or use a Walmart approved third-party fulfillment center.
Am I required to offer 2-Day Shipping on all my SKUs if I get approved?
No. Walmart does not require any supplier to offer expedited shipping. However, suppliers can offer expedited shipping on a portion of their SKUs or to only select delivery locations.
Conclusion
Walmart's free 2-Day Shipping is a win-win for shoppers and suppliers. Shoppers save shipping costs on large purchases and receive their items faster. Suppliers get an added feature to help their products stand out in a search and provide added value.
The 2-Day Shipping strategy is one of many ways to improve supplier performance with Walmart. For more ways to improve supply chain, sales performance, and analytics, 8th & Walton can help! Request a free consultation this week.