Online retailers like Amazon and Walmart allow third parties to sell on their sites. In doing so, the companies run into the issue of multiple sellers wishing to sell the same item.
To simplify the search for their customers, the retailers provide a single product listing and allow sellers to compete for prominent placement on that page to sell their items. "Prominent placement" means being at the top of the page in the buy box.
In this article, we will look at how Walmart selects suppliers to be featured in its buy box. We will also discuss best practices for winning the buy box, how it can be lost, and what the Walmart.com algorithm looks for from product listings to rank items higher in a search.
What Is the Walmart Buy Box?
The Walmart Buy Box is the section of an item page that contains the name of the item, item price, seller, seller information, additional purchase options, and "add to cart" button. Sellers of duplicate items on walmart.com share an item page and compete for placement in the buy box.
Winning the Walmart Buy Box requires suppliers to understand what happens behind the scenes at walmart.com to increase their chances of showing up in the buy box to win the sale. To obtain the coveted buy box position, we will discuss which strategies Walmart suppliers need to focus on in order to win the buy box and increase online sales.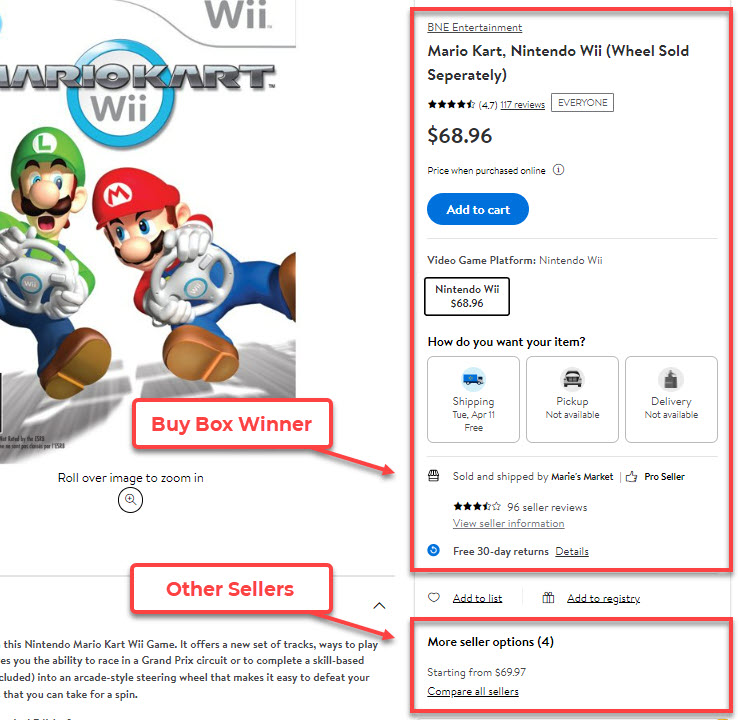 What Does It Mean to "Win" the Walmart Buy Box?
The concept of "winning the buy box" is particularly important for Walmart Marketplace sellers. In many instances, multiple sellers will list the same item on walmart.com. For example, more than one seller may be selling the same DVD movie, video game, or appliance. Because each of these sellers would have the same item page for their product, Walmart assigns one item page for the product and allows sellers to compete for the prominent buy box placement.
When a customer searches for an item being sold by multiple sellers, the top performer ranks highest and wins the buy box on the item page. Other sellers can be found in the "More seller options" section at the bottom of the buy box. The most competitive price usually wins the buy box, but some shoppers opt for different shipping options, more reviews, sellers they have bought from before, and more.
Why Is Winning the Buy Box Important?
All sales begin with getting in front of the customer. In a store, that may mean endcap features or placement by the checkout. For walmart.com sellers, it means winning the buy box above competitors selling the same item. It is specifically important to win and maintain control of the buy box because:
1. Most Customers Are Unaware of Walmart Marketplace
The average Walmart shopper who logs on to walmart.com has no idea they may be ordering from a third party. Being on a Walmart website, their impression is they are doing business with Walmart.
Because of this, when they search for an item and click on the item page, it doesn't occur to them that the buy box is simply the first option. Statistically, over 80% of online sales go through the default buy box without the buyer choosing to review other options.
In short, the first option they see will most likely land the sale.
2. Fewer Steps Means More Visibility
When a competitor owns the buy box, you remain behind the curtain of the "more seller options." Being in the buy box and keeping it gets your product and service in front of more customers in the search.
3. The Success Feeds on Itself
Better sales leads to buy box placement, which leads to better sales, which leads to keeping buy box placement! In other words, once you have achieved that prominent placement, it's easier to hold on to it. You're already doing the right things to align with Walmart's algorithm, so maintaining is easier than getting there.
Being the first choice in front of the customers' eyes does wonders for sales, reviews, and building customer trust.
How to Win the Walmart Buy Box
Before the customer can click the "Add to Cart" button on your item, they have to find your item first! Getting your item out of the "other options" section and into the buy box comes down to price and performance.
Specifically, these recommendations will help capture the buy box placement:
Pricing
Walmart prides itself on being a low-price leader and expects the same of suppliers selling on its website. Whether the supplier is a large brand manufacturer or an independent Marketplace seller, item price is a major factor in search rankings.
Suppliers should offer competitive pricing and stay aware of how competitors are pricing similar items. It is usually the lowest-priced item that wins the buy box.
Shipping
Customers love free shipping, and fast shipping, and Walmart does as well. If possible, try to offer free or low-cost shipping to customers.
Walmart also gives higher ranking to suppliers offering services like 2-day shipping. Remember, just because the lowest-priced item may be currently in the buy box, the customer may prefer to pay more for faster shipping and go to the other options. This drives walmart.com performance and gets your item closer to the buy box.
Every effort should be made to deliver the product to the customer on time or even early with clear communication for tracking.
Reviews and Ratings
Walmart wants all of its customers to have a positive experience when shopping at walmart.com. A huge influence in winning the Walmart Buy Box is having positive ratings and reviews.
This is especially important for Walmart Marketplace sellers. Marketplace sellers not only receive a review for the items they sell but also for their service. Too many poor reviews for either can cause the seller's items to fall in the rankings, resulting in losing the buy box.
Accurate Product Descriptions
The first step to good ratings and reviews is in the product description. Being honest and accurate about the item builds trust with the buyer. The more the buyer trusts the seller, the more motivated they are to shop with them repeatedly. Those positive buyer experiences are reflected back in the online reviews.
Healthy Inventory Levels
Being at the top of Walmart's search algorithm does not mean a thing when a supplier is out of stock. As soon as the customer sees "item is out of stock" on the item page, there's always another option. At the bottom of the buy box, they can find what they want by simply clicking "More seller options."
Keep those inventory levels up to stay in stock. Never losing the sale to out-of-stocks helps keep your search ranking healthy and increases your buy box success.
Walmart Buy Box FAQ
What determines who wins the buy box?
The Walmart algorithm is heavily focused on price when it comes to buy box placement. However, other factors can impact a low-price seller. For example, if the seller has the lowest price on an item but also has several bad reviews, they will lose the buy box. Price is important, but striving to provide excellent sales and service can make or break where you rank on walmart.com.
Can a third-party seller win a buy box occupied by a national brand, or even Walmart?
Yes. In some instances where a third-party seller has a lower price, great reviews, excellent delivery options, and healthy in-stock levels, they may take the buy box from larger brands. Just be aware that Walmart and larger suppliers monitor this closely and work hard to maintain their buy box standing.
Is the Walmart algorithm only looking for the lowest price?
No. The Walmart buy box algorithm is checking inventory levels. Not just the inventory levels of the current buy box winner, but also of competitors trying to get into the buy box! Once it has reviewed pricing, it checks to see if all the items are in stock. If the current buy box winner is out of stock, the supplier will lose placement, even if they have the lowest price.
What else factors in to buy box placement besides sales and price?
Your overall seller performance also contributes to buy box placement. These Walmart supplier account metrics include a supplier's buyer feedback, selling history, shipment and defect rates, etc. Basic supplier performance metrics to keep in mind when trying to win the buy box include:
An on-time delivery rate greater than 95% in a 14-day period
A return rate of less than 6% in a 90-day period
A valid tracking rate of greater than 99% in a 14-day period
A cancellation rate of less than 2% in a 14-day period
How do you lose the buy box?
Poor supplier performance can make you lose the buy box. This includes high prices, low prices with high shipping, bad customer reviews, excessive out-of-stocks, and low ratings on item quality. At the same time, a supplier can be doing everything right and a competitor simply offers a lower price for the same quality product.
Why are my products not buy box eligible?
Much of what has been covered: high prices, poor reviews, or low inventory. Another factor could be that you are new to Walmart Marketplace. It takes time to build trust with a new customer base and monitor the competition. Take the tips from this article to build your standing toward winning that buy box!
The Bottom Line
Striving to win the Walmart Buy Box is essential for increasing online sales and improving service to the customer. It's also a great way to stay on top of competitors and a great reminder of why Walmart's performance metrics are key to succeeding.
Need help with your online performance? Our team of Walmart.com experts can address your item page issues or supply chain questions. Request a free 15-minute consultation to learn how 8th & Walton can support your Walmart business.