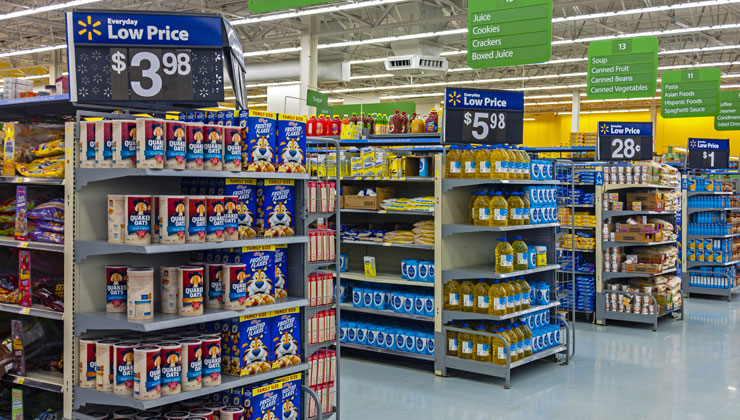 What Is an End Cap Display?
An end cap display (or endcap display) refers to merchandise displayed on a shelving unit at the end of an aisle in a retail store. Sometimes called a feature, the end cap is used for temporary product placement during a promotional period.
What Are End Cap Displays Used For?
The goal of placing merchandise on a store end cap is to drive awareness and sell-through. It has long been known in retail that items displayed on an end cap sell faster than products located down an aisle on the shelf.
In a 2019 study conducted by Shoppermotion, 100 shoppers were observed interacting with end caps over a two-week period. At the end of the study, about 21% of shoppers interacted with the end cap before proceeding down the category aisle. However, about 72% interacted with the end cap without entering the category aisle. Better sell-through happens with end cap placement because you can win customers not actively shopping your category.
How is the end cap feature improving customer interaction? First, merchandise on an end cap gets more attention for being a solitary display. Competing items are not around it on the shelf. The item, packaging, and price has a better chance of standing out when it stands alone.
Second, items on an end cap grab the attention of the passive customer as it is the first display seen when entering the aisle. Even if the customer has no intention of shopping in the aisle where your product is normally on the shelf, end cap placement guarantees the customer will see your item and price when strolling through action alley.
What Types of Products Are Used in End Caps?
Depending on the retailer, that valuable end cap space can be used to move a variety of items. These are the more common types of products you'll find in this feature placement:
Items for Store Promotions
While suppliers can work with their retailer to lobby for end cap placement, retailers also ask suppliers for help. To support a company promotion, the retailer may seek a special price, bonus, or bundle to feature on an end cap to support the event.
Retailer events like Baby Days, Tire and Auto Events, Back to School, and Spring Cleaning drive huge sales on consumables. Featuring supporting items on end caps helps the promotion and gives new opportunities to cross-promote with other categories.
New Launch Items
End caps are ideal for letting customers know there is something new down the aisle. It may be a new flavor of a traditional food or beverage. Products expanding their assortment (i.e., cough drops launching a liquid or gummy option) can promote more awareness and first-time sales by launching on an end cap.
Local Assortment Items
With end cap space at the end of every aisle, there's plenty of room for creativity in retail stores. National big box retailers normally communicate to their stores what product is to be displayed on which end cap. However, some national chains allow the local stores freedom to stock some of their own. These end caps may display local assortment items (sometimes called "store choice" items).
Feature items on a local assortment end cap sometimes include locally crafted beverages, regional food items, local sports team apparel, or products supporting local events and celebrations.
Seasonal Products
When building a theme on an end cap, creating that one-stop-shop for a season is a great eye-catcher. While holidays provide great ideas for multiple items on a feature, retailers are always coming up with new ways to cross-merchandise for non-traditional seasons.
Fun summer end caps sometimes include marshmallows, chocolate, graham crackers, and citronella candles. Pharmacy end caps tie together first aid by featuring tissue, aspirin, and cough drops for the cold and flu season.
Clearance Items
A favorite theme for some customers is Clearance! Those seeking a bargain on marked-down merchandise gravitate to this area of the store or seek it out on the shelves. Some retailers make the search easy for the shoppers (depending on the category) by using an end cap to group all Clearance merchandise.
Benefits of End Cap Displays
Customers are still shopping in brick-and-mortar stores. Research from OgilvyAction shows that about 40% of consumers wait until they're at the shelf before deciding which brand to purchase. Since you can still win the sale in the aisle, the end cap is a better way to grab their attention even before they enter the aisle. Having your item on this feature brings many benefits:
Increased Sales
Items featured on a store end cap see a higher sell-through rate. In addition to increased customer traffic, most retailers allow suppliers to have more creativity in the end cap display's design than shelf placement. These features catch the customer's eye and give the impression of a special value for being in feature placement.
Cross-Merchandising
One of the best ways to cross-merchandise a product is by featuring two or more items on an end cap. Whether it's creating a meal solution or featuring a laptop with various accessories, cross-merchandising features will drive more items to the cart.
Product Awareness
Customers may not shop every aisle in the store, so the end cap feature is a great way to showcase items they may not think to buy. A big box store that does high volume sales in grocery and health and beauty may try to build awareness of other items by placing them on an endcap (i.e., motor oil, art supplies, hardware, etc.).
End Cap Display Best Practices
To catch the eye of passing customers and draw in more sales, consider these best practices when planning your end cap display:
1. Setting a Single Price-Point
One of the first things shoppers notice about a feature display is the price signing. A good rule for end cap displays is for all items on the display to be the same price. Whether it's one item or multiple products, calling out just one price on the end cap eliminates confusion and helps promote the value.
2. Pricing to Promote Multiple Purchases
Displaying items on an end cap will drive sales, but how can you encourage customers to put more than one in their cart? Retailers know the "2 for" rule, and it's used frequently on end cap displays.
Rather than displaying a price point over an end cap that reads "$5 each," retailers can boost sales by labeling it as "2 for $10." The customer perceives this as receiving additional value. If the customer does not want to purchase two of the item, it's easily understandable that one will only cost $5.
That's important to note: a "2 for" price point must be easily understood. If the math can't be done easily for the value of one item, it creates confusion and loses its value as a bargain. "2 for $10" is much more appealing than "2 for $7.24."
3. Creating a Theme
Not all end caps will have a single price point, but the best ones will have a single theme. Different items work well on the same end cap when the customer sees how they flow together and create a one-stop-shop.
One grocery end cap may display chips, salsa, and cheese dip. Another might feature peanut butter, jelly, and loaves of bread. An automotive end cap may display antifreeze and windshield ice scrapers. Seasonal end caps are usually filled with stocking stuffers, baking items, last-minute gift ideas, and other creative solutions.
4. Entice the Customer Down the Aisle
Maybe one or two of your products are on the end cap. More of your items are on the shelves farther down the aisle. If you use the eye-catching end cap display wisely, it can entice the customer to walk down that aisle to see more of what you have to offer.
Packaging or end cap signage can feature your brand's family of products. Featuring one item on the end cap can provide the opportunity to include signing with coupons for other items. Bonus bundle packaging is another great way to introduce customers to more products in your line (i.e., shampoo packaged with a free sample of conditioner).
End Cap Displays at Walmart
End cap features in a Walmart store are chosen by the Walmart buying team. Suppliers work with their Walmart buyers if they wish to be featured. Usually, it's not a "pay to play" scenario, but the buyer may ask for a Rollback offer or some other enticement for the shopper.
Conclusion
Items featured on a store end cap have been proven to sell through faster than sitting on an aisle shelf.
For Walmart suppliers, the first step is determining what price, bonus, or special offer you can present to the customer before approaching your Walmart buyer.
To learn more about merchandising and supplying to Walmart, contact 8th & Walton for a free consultation.
Photo credit: "Endcaps at a Walmart store" (c) by Daniel Case is licensed under CC BY-SA 3.0