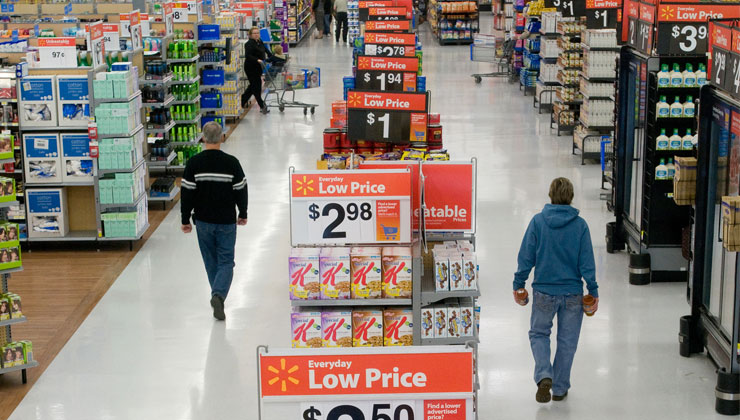 What Is Action Alley?
Action Alley (also known as the racetrack) refers to the square aisle that goes around the inner perimeter of a retail store. Action Alley separates departments and is usually stocked with special features, sales merchandise, discount bins, or sampling displays.
Action Alley at Walmart
Since the earliest days of Walmart stores, Action Alley has been a staple of the company's merchandising layout. As customers walk around the store or move from one department to another, Action Alley is where they get a chance to see deals on five-dollar movies, meal-combos, seasonal items, fresh-baked goods, new trendy items, and more. As popular as this area is with customers and suppliers, Walmart tried eliminating it for a time.
In the early 2000s, Walmart received feedback from customers that stated there was "too much clutter in the aisles" that made shopping inconvenient. At first, Walmart leadership thought the feedback referred to loose merchandise in an aisle or a pallet left unattended. After further research, they realized customers were complaining about all the displays in Action Alley. The company decided to take action.
It was also at this time that Walmart was going through a major rebranding. "Wal-Mart" changed to "Walmart" and the company introduced a new logo: the Walmart Spark. Part of this rebranding was the decision to eliminate displays in Action Alley. In 2008 – 2009, stores were getting makeovers and clearing the "clutter" out of Action Alley. Customers had more room to get around the store. However, what was good for shopping was not good for sales!
Without items in Action Alley, sales fell. Both suppliers and customers preferred the previous layout. It only took about a year for Walmart to bring Action Alley back, but with improvements. Displays in Action Alley are now narrower, bins are smaller, and there's still ample room for shoppers to move about with ease.
Getting Items in Action Alley
Action Alley is sure to get suppliers' items in front of new customers. While every supplier would love this display space, it has to make sense for the customer and Walmart's plans for a particular time of year.
Getting items into Action Alley has an approval process at Walmart. Since Action Alley is typically reserved for seasonal displays or promotional themes, plans for each display are set far in advance. They are often set by the corresponding department.
For example, Home Cleaning will almost always have an Action Alley display near their department. During spring cleaning and Back-to-School, they usually have large promotions with multiple vendors included.
How does a supplier get an item into Action Alley for one of these seasonal sets? It is actually the Walmart buying team that contacts the suppliers asking for items to display for an Action Alley program. The buyers ask multiple suppliers to submit proposals. In most cases, the best pricing and profit margin will win the space.
Action Alley Benefits to Suppliers
Action Alley is an ideal display space for suppliers' items as much as the front registers. Both are hot spots for impulse buys. The advantage for an Action Alley display or bin is also in the larger signage to catch customers' eyes as they walk past.
Another great benefit for suppliers is the cross-merchandising opportunities. While some displays in Action Alley feature only one item (TVs, pillows, batteries, etc.), grocery displays are often built around assembling a complete dish or meal. One feature in Action Alley may display ketchup, mustard, pickles, and hamburger buns.
Action Alley is also an ideal space for new product launches. If a supplier's item is part of a hot new trend, the merchant team may grant Action Alley Space to let customers know they can find it at Walmart.
Action Alley Benefits to Consumers
One of the biggest benefits of Action Alley for consumers is how the space is used for seasonal times of the year. Walmart saves its customers time by using trains in Action Alley to make shopping easier.
A train is simply a long cardboard display with multiple small bins along each side. Walmart shoppers will be familiar with the annual Back-to-School train. It's usually set up in Action Alley in front of Office Supplies and each bin is filled with scissors, glue, pencils, pens, and more for the BTS list. The train allows shoppers to get the majority of their necessities in Action Alley without having to maneuver multiple aisles.
For holidays and special occasions, Action Alley is where time-crunched shoppers find exactly what they need quickly. Walmart uses Action Alley to feature flowers and candy around Valentine's Day, last-minute gift ideas around the holidays, and even umbrellas on rainy days!
Action Alley is a time-saver for consumers. Walmart works closely with suppliers to make the experience better and provide cross-merchandising solutions to help consumers in their planning.
Conclusion
As a high-traffic area, Action Alley is desired display space in a Walmart store. If you are a Walmart supplier and thinking of approaching your buyer about this space, plan carefully. Let your buyer know you are interested in the Action Alley program and you'd be interested in submitting a proposal when an ideal opportunity comes up.
If you need help in planning a presentation to your buyer or if you have been asked to submit a proposal, contact 8th & Walton this week to speak with a Walmart advisor.