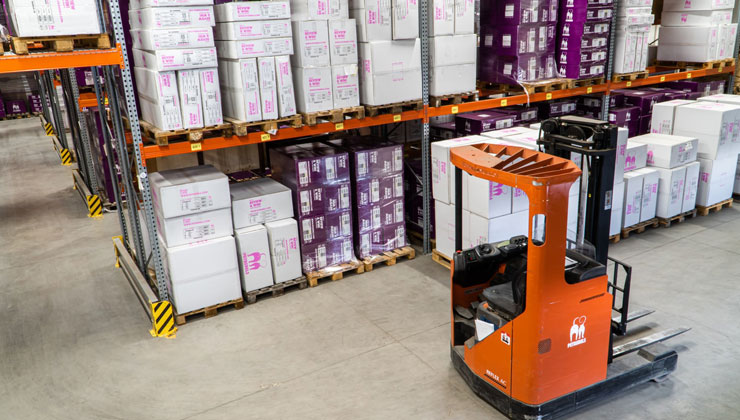 A drop ship vendor (DSV) for Walmart is a vendor that keeps merchandise in their own warehouse then ships it directly to customers when purchased on Walmart.com. Not all Walmart suppliers are required to ship via DSV.
Selling and Shipping on Walmart.com
There are three ways to sell and ship when listing items on Walmart.com. The method a supplier uses is determined by Walmart.
1. Walmart Warehouse Supplier Program
Online suppliers approved to use Walmart warehouses have an agreement much like most store suppliers. They do not ship product directly to customers. All product is shipped to a Walmart fulfillment center and housed until a customer purchases it online. Once the item is purchased, Walmart ships it to the customer's home directly from the fulfillment center.
2. Walmart Marketplace (3rd Party Walmart.com Sellers)
Through the Walmart Marketplace program, smaller vendors can list their items on Walmart.com and take advantage of Walmart's large customer base. The vendor is responsible for housing their product, shipping it to the customer, and covering all shipping costs.
3. Drop Ship Vendor Program
Like the Walmart Marketplace program, a supplier using the Drop Ship Vendor method will house and ship their items. However, when an item is shipped, it will include a Walmart packing slip. The other major difference is the shipping cost. Walmart covers all shipping costs for its Drop Ship Vendors.
If you are applying to sell through Walmart for the first time, don't forget to check out our blog How to Sell to Walmart: Get Your Product in Walmart in 4 Steps.
Advantages To Being a Drop Ship Vendor
When a supplier does not have the option to house product in a Walmart fulfillment center, DSV has a few advantages over Walmart Marketplace:
Ship to Store
Walmart customers are not required to have their Walmart.com purchases be delivered to their homes. If more convenient, they can opt to have orders sent to their local Walmart store. Drop ship vendors are eligible to use the Ship to Store option on Walmart.com. They can pick the items up curbside without leaving their car. Ship to Store is not available for Walmart Marketplace sellers.
Sold by Walmart
Suppliers using the DSV program will have their items listed on Walmart.com as "Sold by Walmart." For the Walmart shopper, it adds credibility to the item and more confidence in purchasing than from a third party.
Free Shipping
Drop ship vendors are eligible to have their items listed with free shipping. As stated before, this is at no cost to the supplier; Walmart covers all shipping costs.
Buy Box
Drop ship vendors have a better chance of getting the Buy Box than a seller using Walmart Marketplace. If a DSV item is the same as a Marketplace item on Walmart.com, the DSV item will take priority.
Disadvantages To Being a Drop Ship Vendor
Given all the advantage of selling on Walmart.com as DSV, there are a few drawbacks to understand before pursuing a partnership:
Application Process
It takes time to get verified for the DSV program. Walmart has a thorough process to check each vendor selling under the Walmart brand. Even after a supplier has been accepted for DSV, Walmart sets high expectations to remain in the program.
Chargebacks on Returns
As a drop ship vendor, a supplier is selling their product on Walmart.com under Walmart's brand. Therefore, customers may return damaged or unwanted merchandise to a local Walmart store. All returns are liquidated. The suppliers may receive costly chargebacks for refunds and not have the merchandise returned.
Warehousing Items
Part of the DSV agreement is that a supplier houses and ships their items as they are ordered. Walmart will not keep your items in their distribution centers, nor will they buy from you in bulk. The added cost and risk go to the supplier.
Walmart in Total Control
When you are selling under the Walmart brand, Walmart has a lot of control over how your items are presented on their site. The company will make the final decision about the DSV supplier's product pages, listings, and shipment method (all orders must be shipped via FedEx).
One area where Walmart has total control that can make some suppliers uncomfortable is in the retail pricing. Pricing has to be closely monitored to avoid confusion, especially when selling on other platforms. It is not uncommon for suppliers to lose the buy box on Amazon as a result of their Walmart prices dropping.

Apply To Become a Walmart Drop Ship Vendor
As mentioned previously, Walmart puts suppliers through a thorough application and approval process for DSV. Allow yourself plenty of time and be ready to provide details about your business.
Step 1: Know What You'll Need To Provide
Before logging on to submit an application, make sure you have exactly what Walmart expects. This supplier checklist outlines all requirements for prospective suppliers to do business with Walmart. The application will ask you for things like:
Tax ID information
DUNS number
Banking information
Product information
Insurance
Global Location number
Make sure you have all these and additional requirements before going further.
Step 2: Create an Account With Walmart
Once you have all the requirements on the supplier checklist, you are ready to apply. This is where you create an account with Walmart. You will be asked for the information on the checklist and be given further instruction.
Step 3: Wait For Approval
This can be the hardest step in the process! There is no standard amount of time for when the Walmart merchants will approve or reject your application. Have patience and keep watching for that email.
Drop Ship Vendor FAQ
How does DSV work differently than a warehouse supplier?
Warehouse suppliers do not ship directly to customers. The warehouse suppliers ship items to a Walmart warehouse for storage and distribution to customers' homes or stores. Suppliers on the DSV program ship the items directly to customers or stores for customer pick-up.
If I apply for the DSV program, will I have to Ship to Store?
Yes, this is covered in detail in the DVS agreement. Your business will need to be set up to Ship to Store and Ship to Home.
I'm already selling on Walmart Marketplace. Can I apply for the DSV program?
Yes, there are suppliers who work as Marketplace sellers and also sell via DSV. If you meet the requirements for both programs, Walmart will allow you to sell on both platforms. What you can not do is sell the same item as both a Walmart Marketplace item and DSV. Your items must be exclusively on one platform or the other.
What kind of supplier is best suited for DSV?
If you are not a warehouse supplier, DSV is a viable option if you:
Process orders in high volume.
Are set up to house your inventory.
Can ship your items across the country.
Meet all other requirements on the Walmart supplier checklist.
Are there shipping requirements in the DSV program?
Under DSV, you will be shipping your product with a Walmart packing slip. The only approved carrier approved to ship all items via DSV is FedEx.
How does Walmart handle Walmart.com returns?
Walmart allows its online purchases to be returned to local stores. If your items are returned, they will be liquidated. You will then receive a chargeback.
I'm ready to be a DSV on Walmart.com logistically, but I'm concerned about setting up my item pages and maintaining them. Where do I find help?
Making sure your items are reaching your desired customer in a search is critical. For a free consultation about your item pages, contact 8th & Walton's e-commerce team.
Conclusion
DSV is a logical option for high-volume suppliers not using Walmart warehouses and distribution centers. There are huge advantages to listing items at Walmart.com under the Walmart brand and offering the additional service of shipping items for store pickup.
To learn more about DSV, succeeding on Walmart.com or Walmart.ca, and your online reporting and analytics, contact 8th & Walton for a free consultation.