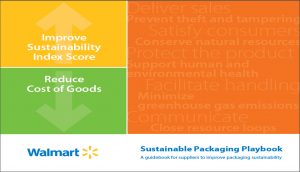 Walmart recently posted its new guidelines for PDQ (Pretty Darn Quick Trays) & RRP (Retail Ready Packaging). The newest revelation to the PDQ Style Guide is a special call out for the RRP guidelines. Suppliers are now referred to the online Intake Sheet Process for submitting promotional vehicles, and they are asked a series of questions which are included in the visual representation of the proposed promotional PDQ.
Walmart Emphasizes Sustainable Packaging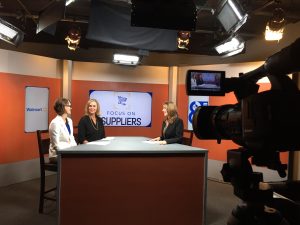 Laura Phillips (SVP Global Sustainability) and Ashley C. Hall (Sr. Director –  Sustainability) from Walmart recently talked on "Focus on Suppliers" about Walmart's keen interest in sustainability and its Oct. 25 Sustainability Summit.
Phillips explained Walmart's consistent dedication to sustainability and its desire to reignite the passion around packaging:
"Recently 90% of our customers told us that they want to see us improve the recyclability of packaging and decrease packaging where it's not needed. That's a triple bottom line advantage — good for the business, the environment, and our customers."
Hall explained that suppliers can learn what good sustainability packaging looks like for Walmart from its new positioning statement and its Supplier Guidance Playbook. The focus is on designing to optimize, sourcing sustainability, and supporting recycling.
Learn More
You can find out more on Retail Link or by visiting WamartSustainabilityHub.com. A YouTube video is also available.
If working through all of this on your own seems daunting, consult an expert such as Menasha. It is prepared to help you reduce labor costs and achieve those "5 Easies" Walmart is looking for in 2017.
If you are looking for more customized help and support, give Menasha's Kerry Bailey a call at 479-425-2194.