Podcast: Play in new window | Download
Subscribe: RSS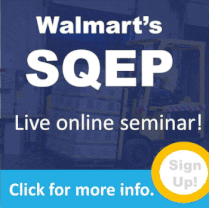 Walmart's SQEP launched February 1, 2021. This initiative measures suppliers on new accountability standards and penalizes them for non-compliance.
On our latest Retail Supplier Podcast (click the play button above to listen), we visited with four former Walmart leaders: Leaven Eubank, Tiffany Henderson, Joel Graham, and Terry Clear. This panel is hosting a series of Walmart SQEP seminars put on by 8th & Walton for suppliers. During the podcast, we discussed the basics of SQEP, Walmart's goal, monetary penalties, and what suppliers can do to be successful.
What is SQEP?
Leaven Eubank began the discussion by covering the basics and goal of this new initiative.
"SQEP is Walmart's Supplier Quality Excellence Program," he explained. "It was designed to drive out unnecessary handling costs coming into the supply chain. The program ensures  packaging, load quality, and purchase order (PO) information accuracy. This helps the product arrive, get processed, loaded on a trailer, and shipped to stores in a timely manner."
Much like other Walmart programs before it, SQEP helps suppliers become better partners with Walmart. Goals are set and measured. When suppliers fall short of the goals, there are monetary penalties.
What is Walmart measuring and penalizing?
To launch the new SQEP initiative, Walmart is rolling out accountability standards in phases. While specifics may change over time (as with On Time In Full), three rollout phases have been announced:
Phase 1: PO Accuracy and ASN Accountability
Suppliers that are not doing ASNs (Advance Ship Notices) currently should begin having conversations with their EDI providers. This is to ensure they are ASN compliant.
Phase 2: Labeling and Bar Code Accuracy
This phase covers the accuracy of shipping labels. Suppliers also need to verify case labels are scannable and the information is correct.
Phase 3: Scheduling and Transportation
In addition to basics like boxes, pallets, and load shifts, there may be Walmart.com shipment accountability during this phase.
What tools are available to help Walmart suppliers?
Anytime Walmart announces a new accountability initiative, a new tool for suppliers follows. In this case, Walmart created an SQEP dashboard. Joel Graham has been working in the dashboard to answer questions for Walmart suppliers about reporting. He believes suppliers will take to the new tool with no problem.
"What's nice about the SQEP dashboard is the familiarity of the homepage," Joel explains. "It looks very much like the On Time In Full dashboard that was recently redesigned. There's a left menu similar to the OTIF dashboard, along with filter and download options. You also have the ability to see specific defects by PO number. Very simple and straightforward to use."
How are suppliers fined for non-compliance?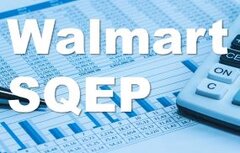 Tiffany Henderson has been working with suppliers to prepare for the SQEP launch. As she illustrates, Walmart's accountability penalties can quickly escalate when unchecked.
"As of 2021, the penalty is 200 dollars per PO and one dollar per case on that PO that's impacted," she says. "So, fines can add up fairly quickly when you consider that some POs can have hundreds of cases on them. Now's the time to work with your item file and confirm the accuracy of all the data being shipped through Walmart."
How can Walmart suppliers reduce or eliminate SQEP penalties?
To get ahead of the program, or to eliminate penalties you already foresee, there are easy steps to take.
Check your current labels
Terry Clear advises suppliers to take a few minutes to verify the accuracy of what they're shipping.
"Check your case label and check your shipping label for 100% compliance," he explains. "Walk out to your warehouse, get a copy of a label that goes on a case, and compare it to what is in the Walmart packaging and labeling guide. Grab a shipping label and go element by element to make sure it matches what's in the shipping guide."
Attend the next seminar
All four podcast guests will be hosting SQEP seminars in February and March. In addition to presenting updated material on the program, you can ask the panel questions about your Walmart business. Click here to reserve your spot today.
Get one-on-one help from Walmart experts
Can't attend a seminar, but want to ask a question? Our Walmart experts are happy to help! Click here for a FREE 15-minute consultation.