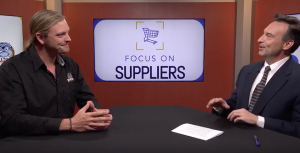 Focus on Suppliers recently featured  Trevor Jensen, CEO of Bullibone. He and host Jarrod Davis talk innovation, new products, and seasonal demand.
How did Bullibone come about?
Trevor: When dogs chew on toys or bones, they're always trying to grip it with their paws.  Since they don't have opposable thumbs, we thought we'd help them out.  We've put little paw pads on so they could just prop the bone straight up and chew away.  It really helps them get good leverage and go to town on those bones.
What are some of those things that you saw with the early focus groups and prototypes?
Trevor: One thing we learned is that flavoring is a big component that needed innovation. Most of the bones out there have a sprayed-on coating: Once the dog gets through that, they lose interest in the bone.  We came up with a proprietary process to flavor the bone throughout. We really dialed in all the different intricacies that you need to have in place because ingredients burn, the material's tough to run.  But that proprietary flavoring process is really something that sets us apart.
Does Bullibone have a busy season?
Trevor: The holidays are definitely big.  These make perfect stocking stuffers and great gifts for friends with dogs. There are little fluctuations, but the holiday season is definitely a big one.
What advice do you give to suppliers who want to take their Walmart relationship to the next level?
Trevor:  We just actually left a Walmart buyer meeting 10 minutes ago. Something we're seeing is that it's really important to focus on the story of the company, show why your brand is special. Show the whole backstory behind it and get people engaged with the brand.  As the market's becoming more and more noisy I think that's really something that, that stands apart and something Walmart's focusing on.
What's your favorite Bullibone product that we can see on the shelves in the next few months?
Trevor: Our new XL Bone is getting increased distribution. It's  really for power chewers; they have a tough time getting through that bad boy!