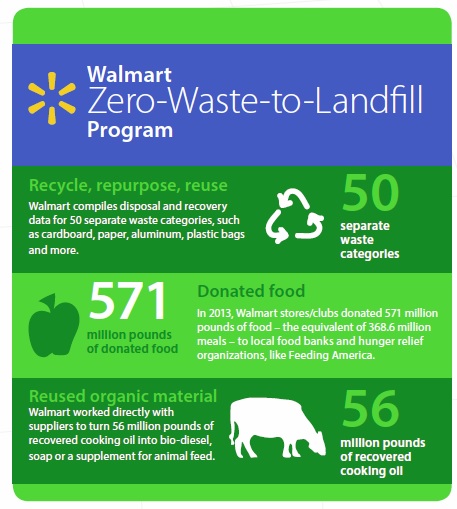 Walmart's Annual report is out, and Doug McMillon's introductory letter is clearly still embracing sustainability as a key commitment:
Walmart's initiatives, in partnership with
many suppliers, have significantly increased sustainability
throughout the global supply chain, and we will do even more.
The 2014 Global Responsibility Report is out, too, and it goes into more detail. First, there is continued commitment to the three aspirational goals Walmart has identified for environmental responsibility:
Energy: Be supplied 100 percent by renewable energy.
Waste: Create zero waste.
Products: Sell products that sustain people and the environment.
Sustainability 360, which includes the Sustainability Index, is being rolled out to more buyers in more categories.
Walmart's commitment to energy efficiency is visible, and the report explains that Walmart hopes that its example and its demands will inspire the energy industry to work toward lower prices for everyone. If energy suppliers take up this challenge, Walmart vendors may be able to take advantage of renewable energy sooner than they currently expect.
Walmart is working on global pilot projects to maintain sustainable water stewardship. Projects include reuse of water, water-efficient building design, water-sparing landscape design, and innovative use of rainwater.
Zero waste initiatives are being propelled by a full value chain approach which brings systems thinking to waste avoidance and waste disposal. Considering eventual reuse, recycling, or disposal from the beginning of product lifecycle makes an enormous difference.
Some of the newest initiatives are the boldest. Recognizing the dangers of excessive fertilizer use, Walmart is working with farmers to optimize fertilizer use and produce food more sustainably and cost-effectively with less fertilizer. Walmart has also been working with suppliers to reduce the use of toxic chemicals in CPGs. The 2014 report reveals a plan to focus on DfE-approved ingredients and DfE-certified products. DfE is Design for the Environment, an EPA partnership program helping to reduce the use of harmful chemicals in household products. Walmart is also expecting suppliers to disclose all product ingredients online beginning in January, and increasing labeling requirements by 2018.
Walmart is an acknowledged leader in sustainability, and suppliers have an opportunity to partner with Walmart toward this worthwhile goal.