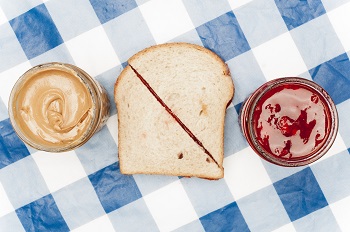 Walmart figures there are three kinds of Walmart shoppers.
There are those that come and stock up at Walmart each week. These are the peanut butter, if you will, in the Walmart PB&J sandwich. The protein in the mix, these are the folks who pack up the kids, load up the car, and go to Walmart for shopping, socializing, and seeing what's out there. It's a weekly ritual, and it can provide family bonding time and time out of the house for stay at home moms — certainly more than just groceries. These shoppers love the Supercenter.
The second kind of shopper, the bread in the metaphor, is the midweek pick-up shopper. These are the folks who stop by the market after work to pick up onions, the ones who dash in for coffee and milk and add a few more things to the cart, the ones who grab dog food and diapers on the way to other destinations. Neighborhood Markets let these shoppers get everything they need without a special trip out to the Supercenter.
The jelly in the equation is the dollar store shopper, the corner store duck-in for just one item, the consumer who counts pennies and needs the smallest size of an item to make that paycheck stretch. For these shoppers, Walmart has been trying out the Express stores.
Add Sam's Club and Walmart.com (the knife and plate?) and you have something for everyone. In fact, Walmart leadership was describing innovative ideas at the Meeting for the Investment Community this week. They're imagining ways to let the guy who stops off on the way home from work order items by phone and have them zipped over from the super center to the Neighborhood Market or the Express store to be ready for pick up.
Making it all work requires world-class supply chain management. Fortunately, Walmart has that. How will this way of looking at things affect suppliers?
In one way, it's just a logical extension of the concept of the omnichannel shopping experience. Some of us are more comfortable with that than others, but consumers increasingly expect to be able to have their relationships with brands wherever they want to have those relationships. They don't make the same distinction between the store, their computer, and their smartphone that they used to, and they expect brands to accommodate them. There's no point in fighting against that reality.
But Walmart is taking that a step further. Providing alternative shopping experiences for different kinds of shoppers — or shoppers at different times — is the physical-world equivalent of making a website work for mobile or desktop.
Suppliers may have to be more flexible, but this may also represent new opportunities.