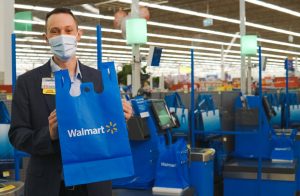 Walmart Canada plans to phase out single-use plastic bags by next Earth Day, April 22, 2022:
"The company said on Tuesday afternoon that the ban on single-use plastic bags will be phased in over the next five months, with the goal of eliminating the products at all locations by Earth Day 2022, which falls on April 22. The ban will apply to in-store purchases as well as online grocery pick-up and delivery orders."
P.S. Walmart has taken the initiative when it comes to green business practices. Our experts can help you learn how to remain in compliance with Walmart's standards. Book an appointment today.