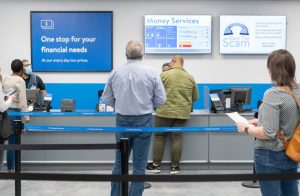 Many Walmart customers opt to do much, if not all, of their banking through Walmart's Money Services:
"In fact, among major financial institutions, Walmart holds the largest share of the U.S. consumer banking market, at almost 19 percent, according to Michael Moebs, head of Moebs Services, a bank consulting firm in Lake Forest, Ill. Runner-up Bank of America has a 12.5 percent share."
P.S. Walmart is more than just a retail store. It offers a full range of services, including financial services that many consumers need.  Get in touch with us today.