How to Navigate the New Retail Link® Home Page
How to Customize Your Own Dashboard
Important DOCS:
How to Search, Filter, Favorite, Sort, Domain, Category
DSS Help/Column Definitions
Store/Club/DC GLN List
Supplier Replenishment Information
On Time In Full (OTIF)
15 Valuable APPS, including:
How to Search, Filter, Favorite, Sort, Domain, Category
OTIF and Its Scorecard
Store/Club/DC GLN List
Online Item File (OIF)
Decision Support
How to Build Out Your Business at a Glance
Introduction to the Decision Support Home Page
The Elements of Building a Query
How to Do Quick Reports:
Quick Item Information
Supplier Performance Scorecard
Why take this class?
A Canadian supplier to Walmart Canada must know Retail Link®, and this class is its well-organized primer. Retail Link® is a rich, enormous, complex storehouse of data. Knowing how it functions, what it provides, and how best to use it is required for ongoing success with Walmart Canada. Retail Link® holds the key to the kingdom, and this class gets you through the castle door.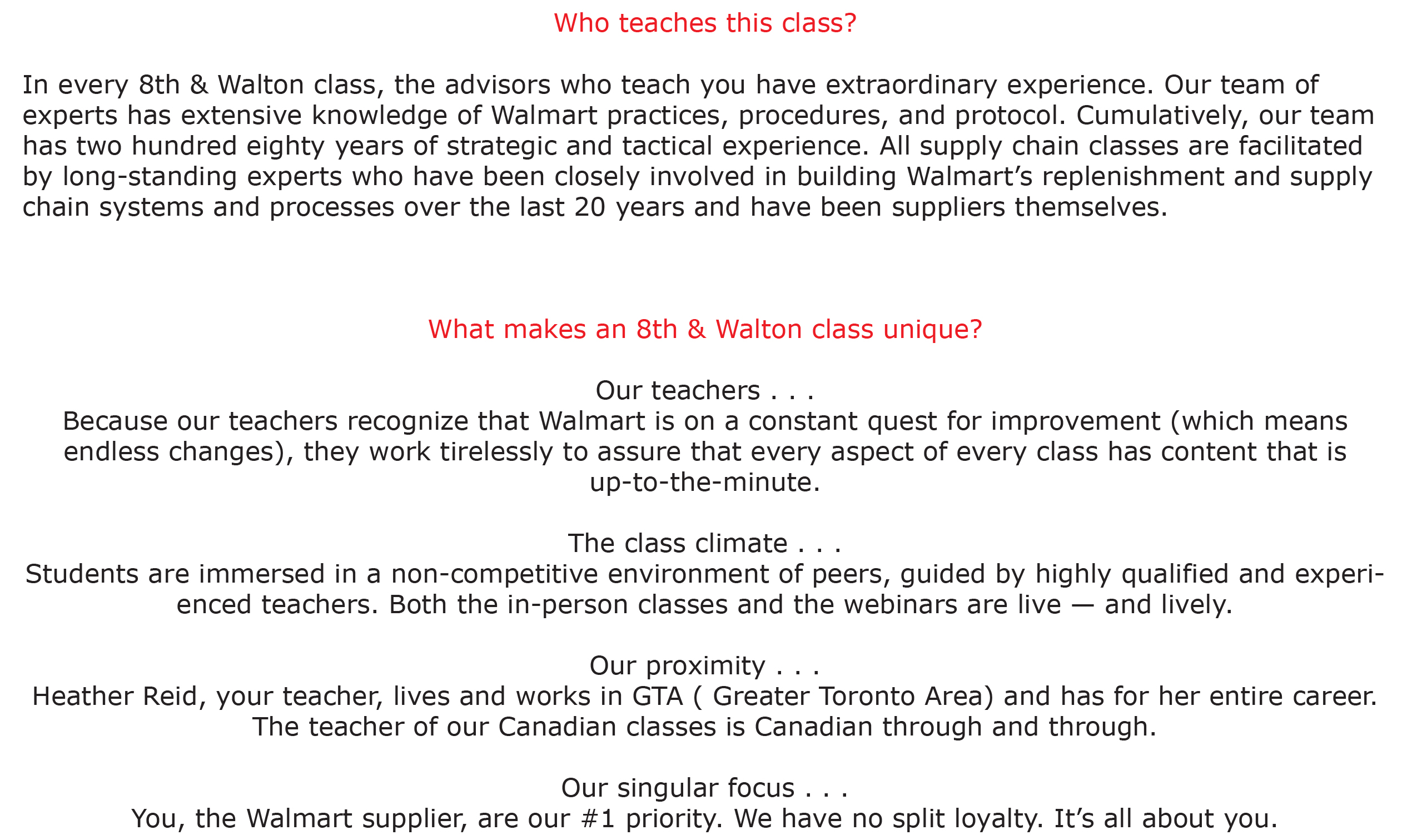 All 8th & Walton classes for Walmart suppliers selling in Canada are taught by Heather Reid of the Greater Toronto Area. For 22 years, Reid worked at Walmart organizing and facilitating its Retail Link® and other training programs. She has taught over 2,000 suppliers.
Meet your teacher, Heather Reid
This is an all-day class. From 9:00 AM to 4:30 PM EST
Cost: $650