To say the beginning of 2020 came with supply chain disruption is an understatement. A combination of COVID-19, sales spikes, product shortages, growth in online shopping, and new consumer demands has altered what the second half will look like.  Walmart suppliers are now planning for the busy third and fourth quarters much differently and cautiously.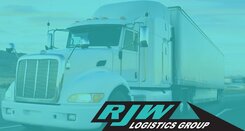 RJW Logistics Group worked with Walmart suppliers through the challenges of the first two quarters. Greg Forbis is SVP of Strategy and Business Development for RJW and joined us on a recent Conference Call podcast. Prior to joining RJW, Greg spent 30 years with Walmart leading teams in supply chain and logistics. His vast experience from the Walmart side made for an insightful discussion and demonstrates the expertise he now brings to suppliers with RJW. As we focused on 2020, Greg shared the biggest impacts the first half will have on the second half and how suppliers should prepare.
Impact on Walmart Suppliers from the First Half
As suppliers begin planning for the up-coming busy shopping seasons, factoring in shortages is crucial. As Greg explains, suppliers need to think beyond their products. It's also the way products are transported that may present an issue.
"One of the things we see coming to the forefront is, because of that spike in volume that happened in March and April," Greg explains, "suppliers are having impacts around components. Plastic bottles to put their product in, corrugate to put their product in; there are just some of those challenges that they're looking at.
"As suppliers think about the next six months," he continues, "I think retailers are really going to look to the suppliers to see what they learned from the last disruption. Retailers will ask 'How are you going to help us get through a second wave (if there is a second wave) on the supply chain side?'"
Working with Retailers to Develop a Strategy
Busier shopping seasons mean demanding inventory accuracy. During May of this year, RJW maintained 99% on time performance for their Walmart suppliers. As Greg explains, inventory accuracy can not just be a month to month conversation. It's a huge part of planning today with the retailer and being honest about what you can deliver.
"Volumes have normalized a little, but are still elevated from where they were a year ago," he says. "I think a couple of learnings for us and for suppliers is that the retailers right now are looking at the suppliers and their supply chain providers to help them and not be afraid of sharing details with the retailer. Talk to them about where you are with your inventory levels. Anytime you go through anything like a pandemic and a push, to see the type of order spikes that they saw, you're going to be behind a little bit."
Having that honest conversation with your Walmart buyer is imperative. However, as with any good planning, issues need to come with solutions. Greg offers practical advice for suppliers on how to approach the reality of getting back on track.
"Go to the retailer and share with them your plan to help get back in stock," Greg advises. "I think you also have to be prepared to ask the retailer for help. That means saying you need to make changes with your items. Make some slower-moving items inactive for a while, focusing on your fastest-moving SKUs."
Bouncing Back for a Strong Second Half
Conversations are happening now between suppliers and Walmart merchants. Greg anticipates Walmart wants to ensure suppliers have a strategy for BTS and Holiday. Part of that strategy is taking what they learned from the first half and bringing realistic solutions to the remainder of 2020.
"If the supplier's supply chain failed because of the spike in volume, what are they going to do to overcome that so they don't crack?" he concludes. "Are they going to bring in extra inventory a little bit early in anticipation of a potential second wave? Prioritize keeping up with inventory and making sure your supply chain is in line. As suppliers prepare for that, it will really set them apart for the back half of the year."
(To hear our entire interview with Greg Forbis, click here for the 8th & Walton Conference Call podcast.)