As retailers like Walmart strive to serve customers with a variety of brands and shopping platforms, new demands hit suppliers with the changing expectations. The biggest issue? Small and mid-size suppliers are held to the same standards as large national brands.
When smaller Walmart suppliers don't have their own logistics network, costs can skyrocket when playing in the same space with the Coca Colas and Proctor and Gambles of the industry. How can the smaller suppliers keep costs down while meeting retailer guidelines? We spoke with Colby Beland of CaseStack about one trend hurting the smaller suppliers. He gave us his insight and explained how CaseStack takes away the supply chain burden.
Challenging Trend in Supply Chain Process
When talking about the biggest trend hurting suppliers, you don't have to look far down the supply chain. As Colby explains, it's happening at the very beginning: ordering.
"The biggest trend in retail is smaller quantities more often," Colby says. "Retailers want to order five days a week instead of one day a week, for example. That impacts cost to the suppliers. It helps to have a third party company like CaseStack that understands the retail landscape and knows how to navigate those relationships with the retailers."
How CaseStack brings Relief to Suppliers
Many suppliers may know CaseStack is a leader in logistics, but their services go far beyond just delivery. Colby concluded by showing how CaseStack truly takes on the smaller suppliers' supply chain.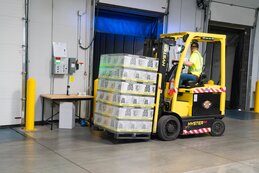 "Larger brands have their own supply chains. What we bring to the table is a sophisticated supply chain for that smaller supplier," he explains. "They don't have to invest in their own technology, carriers, or worry about the retailers' appointment scheduling processes. It really helps for that small to mid-size supplier trying to compete with a large national brand. We take it all off their plate and allow them to focus on what they do best: selling and manufacturing."
To learn more about how their services can help your business, visit CaseStack online.